Records Charge : Director on Trial
1st February 1952
Page 26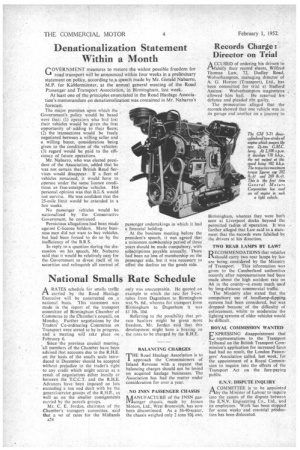 Page 26, 1st February 1952 —
Records Charge : Director on Trial
Close
ACCUSED of ordering his drivers to falsify their record sheets, Wilfred Thomas Law, 72, Dudley Road, Wolverhampton, managing director of A. G. Horton (Transport), Ltd., has been committed for trial at Stafford
Assizes. Wolverhampton magistrates allowed him bail. He reserved his defence and pleaded nbt The prosecution .alleged that the recoads showed that one vehicle was in its garage and another on a journey to Biriningham, whereas they were both seen at Liverpool docks beyond the permitted radius of,operation. It was further alleged that Law said in a statement that the records were falsified by the drivers at his direction.
TWO REAR LAMPS BY LAW?
RECOMMENDATIONS that vehicles should carry two rear lamps by law are being considered by the Ministry of Transport. This information was given to the Cumberland authorities recently after representations, had been made about the high accident rate on A6 in the county—a .route much used by long-distance commercial traffic.
The Ministry also stated that the compulsory use of headlamp-dipping systems had been considered, but was dropped because of the difficulty of enforcement, whilst to modernize the lighting systems of older vehicles would be difficult.
ROYAL COMMISSION WANTED XPRESSING disappointment that • representations to the Transport ; Tribunal on the British Transport Commission's application for increased fares had had no result, the London Passengers' Association called. last week,' for the appointment of a Royal Commission to inquire into the effects of the Transport Act on the fare-paying public.
E.N.V. DISPUTE INQUIRY
A COMMITTEE is to be appointed riby the Minister of Labour to inquire into the causes of the dispute between the E.N.V. Engineering Co., Ltd., and its employees. Work has been stopped for some weeks and essential production has been dislocated.