One Hears
1st February 1952
Page 25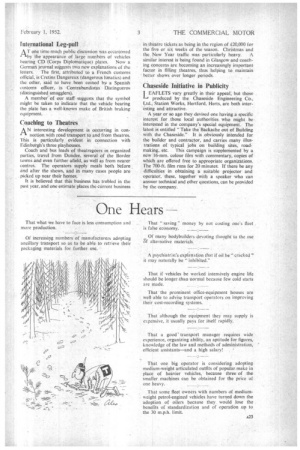 Page 25, 1st February 1952 —
One Hears
Close
That what we have to face is less consumption and more production.
Of increasing numbers of Manufacturers adopting ancillary transport so as to be able to retrieve their packaging materials for further use. That " saving " money by not 'costing one's fleet .
is false economy. _ Of many bodybuilders devoting thought' to the use of alternative materials.
A psychiatrist's explanation that if oil be " cracked" it may naturally be " inhibited."
That if vehicles be worked intensively engine life should be longer than normal because few cold starts are made.
That the prominent office-equipment houses are well able to advise transport Operators on improving their cost-recording systems.
That although the equipment they may supply is epensive, it usually pays for itself rapidly.
That a good' transport manager requires wide experience, organizing ability, an aptitude for figures, knowledge of the law and methods of administration, efficient assistants—and a high salary!
That one big ,operator is considering adopting medium-weight articulated outfits of popular. make in place of heavier vehicles, because three of the smaller. machines can be obtained for the price of one heavy.
That some fleet owners with numbers of mediumweight petrol-engined vehicles have turned down the adoption of oilers because they, would lose the benefits of standardization and of operation .up to the 30 m.p.h. limit.