Reducing Idle Time While Loading
1st December 1933
Page 60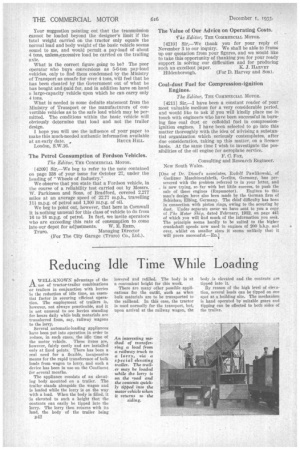 Page 60, 1st December 1933 —
Reducing Idle Time While Loading
Close
A WELL-KNOWN advantage of the .t1 use of tractor-trailer combinations or trailers in conjunction with lorries is the reduction of idle time, an essential factor in securing efficient operation. The employment of trailers is, however, not always practicable, and it is not unusual to see lorries standing for hours daily while bulk materials are transferred from, say, railway wagons to the lorry.
Several automatic-loading appliances have been put into operation in order to reduce, in such cases, the idle time of the motor vehicle. These items are, however, fairly costly and are installed only at fixed points. There has been a real need for a flexible, inexpensive means for the rapid transference of bulk loads from wagon to lorry, and such a device has been in use on the Continent for several months.
The appliance consists of an elevating body mounted an a trailer. The trailer stands alongside the wagon and is loaded while the lorry is on the way with a load. When the body is filled, it is elevated to such a height that the contents can easily be tipped into the lorry. The lorry then returns with its load, the body of the trailer being B42 lowered and refilled. The body is at a convenient height for this work.
There are many other possible applications for the outfit, such as when bulk materials are to be transported to the railhead. In this case, the tractor is used normally for the transport, but, upon arrival at the railway wagon, the body is elevated and the contents are tipped into it.
By reason of the high level of elevation, several loads can be tipped on one spot at a building site. The mechanism is hand operated by suitable gears and tipping can be effected to both sides of the trailer.