TOY STORY The company was incorporated in 2009 as Enterprise
1st August 2013
Page 9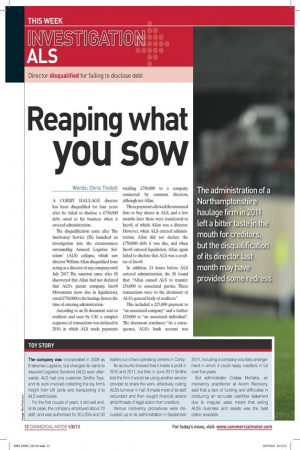 Page 9, 1st August 2013 —
TOY STORY The company was incorporated in 2009 as Enterprise
Close
Logistics, but changed its name to Assured Logistics Solutions (ALS) soon afterwards. ALS had one customer, Smiths Toys, and its work involved collecting the toy firm's freight from UK ports and transporting it to ALS warehouses.
For the first couple of years, it did well and, at its peak, the company employed about 70 staff, and was authorised for 20 LGVs and 30 trailers out of two operating centres in Corby.
Its accounts showed that it made a profit in 2010 and 2011, but then in June 2011 Smiths told the firm it would be using another service provider to share the work, effectively cutting ALS's turnover in half. It made most of its staff redundant and then sought financial advice amid threats of legal action from creditors.
Various insolvency procedures were discussed up to its administration in September 2011, including a company voluntary arrangement in which it could repay creditors in full over five years.
But administrator Costas Morfakis, an insolvency practitioner at Axiom Recovery, said that a lack of funding and difficulties in producing an accurate cashf low statement due to irregular sales meant that selling ALS's business and assets was the best option available.