Sluggish truck sales market is EU-wide THE UK IS not
1st August 2013
Page 8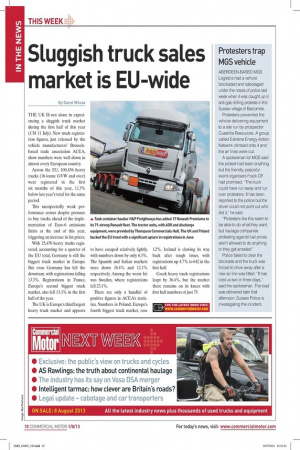 Page 8, 1st August 2013 —
Sluggish truck sales market is EU-wide THE UK IS not
Close
alone in experiencing a sluggish truck market during the first half of this year (CM 11 July). New truck registration figures, just released by the vehicle manufacturers' Brusselsbased trade association ACEA, show numbers were well down in almost every European country.
Across the EU, 100,456 heavy trucks (16-tonne GVVV and over) were registered in the first six months of this year, 11.3% below last year's total for the same period.
This unexpectedly weak performance comes despite pressure to buy trucks ahead of the implementation of Euro-6 emissions limits at the end of this year, triggering an increase in list prices.
With 25,470 heavy trucks registered, accounting for a quarter of the EU total, Germany is still the biggest truck market in Europe. But even Germany has felt the downturn, with registrations falling 13.3%. Registrations in France, Europe's second biggest truck market, also fell 13.3% in the first half of the year.
The UK is Europe's third largest heavy truck market and appears to have escaped relatively lightly, with numbers down by only 6.3%. The Spanish and Italian markets were down 18.4% and 12.1% respectively. Among the worst hit was Sweden, where registrations fell 23.1%.
There are only a handful of positive figures in ACEA's statistics. Numbers in Poland, Europe's fourth biggest truck market, rose 1.2%. Ireland is clawing its way back after tough times, with registrations up 4.7% to 642 in the first half.
Greek heavy truck registrations leapt by 36.4%, but the market there remains on its knees with first half numbers of just 75.