Morrisons' site is 350th authorised testing facility VOSA HAS marked
1st August 2013
Page 6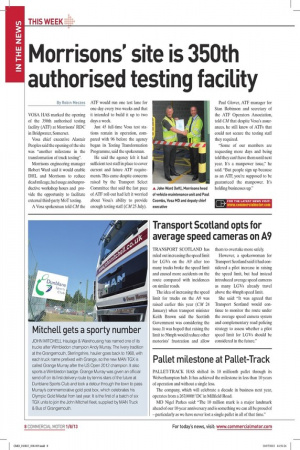 Page 6, 1st August 2013 —
Morrisons' site is 350th authorised testing facility VOSA HAS marked
Close
the opening of the 350th authorised testing facility (ATF) at Morrisons' RDC in Bridgwater, Somerset.
Vosa chief executive Alastair Peoples said the opening of the site was "another milestone in the transformation of truck testing".
Morrisons engineering manager Robert Ward said it would enable DHL and Morrisons to reduce dead mileage, fuel usage and unproductive workshop hours and provide the opportunity to facilitate external third-party MoT testing.
A Vosa spokesman told CM the ATF would run one test lane for one day every two weeks and that it intended to build it up to two days a week.
Just 45 full-time Vosa test stations remain in operation, compared with 96 before the agency began its Testing Transformation Programme, said the spokesman.
He said the agency felt it had sufficient test staff in place to cover current and future ATF requirements. This came despite concerns raised by the Transport Select Committee that said the fast pace of ATF roll-out had left it worried about Vosa's ability to provide enough testing staff (CM 25 July). Paul Glover, ATF manager for Stan Robinson and secretary of the ATF Operators Association, told CM that despite Vosa's assurances, he still knew of ATFs that could not secure the testing staff they required.
"Some of our members are requesting more days and being told they can't have them until next year. It's a manpower issue," he said. "But people sign up because as an ATF, you're supposed to be guaranteed the manpower. It's holding businesses up."