Mission control Now that the dust has settled on Renault's
1st August 2013
Page 31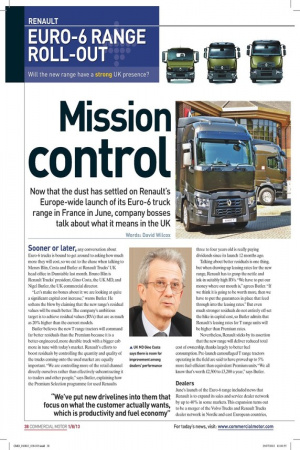 Page 32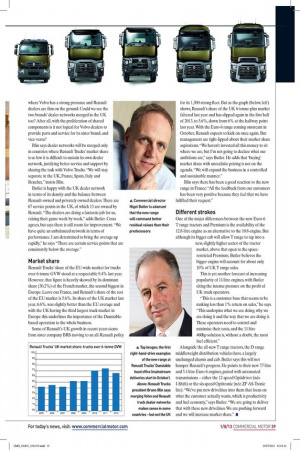 Page 31, 1st August 2013 —
Mission control Now that the dust has settled on Renault's
Close
Europe-wide launch of its Euro-6 truck range in France in June, company bosses talk about what it means in the UK Sooner or Later, any conversation about Euro-6 trucks is bound to get around to asking how much more they will cost, so we cut to the chase when talking to Messrs Blin, Costa and Butler at Renault Trucks' UK head office in Dunstable last month. Bruno Blin is Renault Trucks' president, Gino Costa, the UK MD, and Nigel Butler, the UK commercial director.
"Let's make no bones about it: we are looking at quite a significant capital cost increase," warns Butler. He softens the blow by claiming that the new range's residual values will be much better. The company's ambitious target is to achieve residual values (RVs) that are as much as 20% higher than the current models.
Butler believes the new T range tractors will command far better residuals than the Premium because it is a better-engineered, more durable truck with a bigger cab more in tune with today's market. Renault's efforts to A UK MD Gino Costa boost residuals by controlling the quantity and quality of says there is room for the trucks coming onto the used market are equally improvement among important. "We are controlling more of the retail channel dealers' performance directly ourselves rather than effectively subcontracting it to traders and other people," says Butler, explaining how the Premium Selection programme for used Renaults three to four years old is really paying dividends since its launch 12 months ago.
Talking about better residuals is one thing, but when drawing up leasing rates for the new range, Renault has to grasp the nettle and ink-in suitably high RVs. "We have to put our money where our mouth is," agrees Butler. "If we think it is going to be worth more, then we have to put the guarantees in place that feed through into the leasing rates." But even much stronger residuals do not entirely off-set the hike in capital cost, so Butler admits that Renault's leasing rates for T range units will be higher than Premium rates.
Nevertheless, Renault sticks by its assertion that the new range will deliver reduced total cost of ownership, thanks largely to better fuel consumption. Pre-launch camouflaged T range tractors operating in the field are said to have proved up to 5% more fuel-efficient than equivalent Premium units. "We all know that's worth £2,500 to £3,200 a year," says Butler.
Dealers June's launch of the Euro-6 range included news that Renault is to expand its sales and service dealer network by up to 40% in some markets. This expansion turns out to be a merger of the Volvo Trucks and Renault Trucks dealer network in Nordic and east European countries, where Volvo has a strong presence and Renault dealers are thin on the ground. Could we see the two brands' dealer networks merged in the UK too? After all, with the proliferation of shared components is it not logical for Volvo dealers to provide parts and service for its sister brand, and vice-versa?
Blin says dealer networks will be merged only in countries where Renault Trucks' market share is so low it is difficult to sustain its own dealer network, justifying better service and support by sharing the task with Volvo Trucks. "We will stay separate in the UK, France, Spain, Italy and Benelux," insists Blin.
Butler is happy with the UK dealer network in terms of its density and the balance between Renault-owned and privately owned dealers. There are 67 service points in the UK, of which 13 are owned by Renault. "The dealers are doing a fantastic job for us, raising their game week by week," adds Butler. Costa agrees, but says there is still room for improvement. "We have quite an unbalanced network in terms of performance. I am determined to bring the average up rapidly," he says. "There are certain service points that are consistently below the average."
Market share Renault Trucks' share of the EU-wide market for trucks over 6-tonne GVVV stood at a respectable 9.4% last year. However, that figure is heavily skewed by its dominant share (30.2%) of the French market, the second biggest in Europe. Leave out France, and Renault's share of the rest of the EU market is 5.6%. Its share of the UK market last year, 6.6%, was slightly better than the EU average and with the UK having the third largest truck market in Europe this underlines the importance of the Dunstablebased operation to the whole business.
Some of Renault's UK growth in recent years stems from sister company BRS moving to an all-Renault policy for its 1,300-strong fleet. But as the graph (below, left) shows, Renault's share of the UK 6-tonne-plus market faltered last year and has slipped again in the first half of 2013, to 5.6%, down from 6% at the halfway point last year. With the Euro-6 range coming onstream in October, Renault expects to kick on once again. But management are tight-lipped about their market share aspirations. "We haven't invested all this money to sit where we are, but I'm not going to declare what our ambitions are," says Butler. He adds that 'buying' market share with unrealistic pricing is not on the agenda. "We will expand the business in a controlled and sustainable manner."
Blin says there has been a good reaction to the new range in France: "All the feedback from our customers has been very positive because they feel that we have fulfilled their request."
Different strokes One of the major differences between the new Euro-6 T range tractors and Premium is the availability of the 12.8-litre engine as an alternative to the 10.8-engine. But although its bigger cab will allow T range to tap into a new, slightly higher sector of the tractor market, above that open to the spacerestricted Premium, Butler believes the bigger engine will account for about only 10% of UK T range sales.
This is yet another forecast of increasing popularity of 11-litre engines, with Butler citing the intense pressure on the profit of UK truck operators.
"This is a customer base that seems to be making less than 1% return on sales," he says. "This underpins what we are doing, why we are doing it and the way that we are doing it. These operators need to control and minimise their costs, and the 11-litre 460hp solution is, without a doubt, the most fuel efficient."
Alongside the all-new T range tractors, the D range middleweight distribution vehicles have a largely unchanged chassis and cab. Butler says this will not hamper Renault's progress. He points to their new 7.7-litre and 5.1-litre Euro-6 engines, paired with automated transmissions — either the 12-speed Optidriver (née I-Shift) or the six-speed Optitronic (née ZF AS-Tronic lite). "We've put new drivelines into them that focus on what the customer actually wants, which is productivity and fuel economy," says Butler. "We are going to deliver that with these new drivelines. We are pushing forward and we will increase market share." •