Moving on up Stan Smith & Sons is moving on
1st August 2013
Page 27
Page 29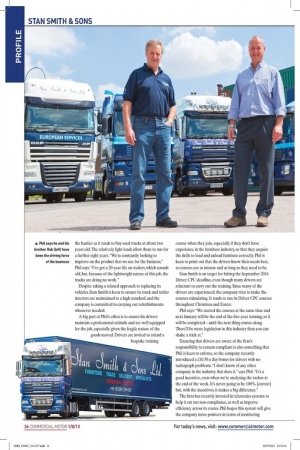 Page 30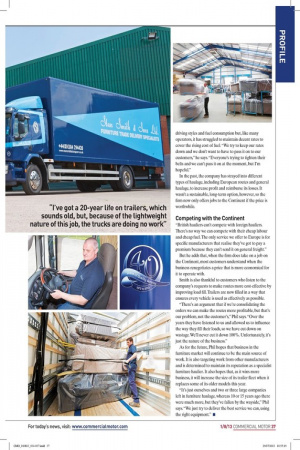 Page 27, 1st August 2013 —
Moving on up Stan Smith & Sons is moving on
Close
from removals to the furniture manufacturing sector, and wants to consolidate its offering When the housing market crashed in the late 1980s, West Midlands-based housing removals specialist Stan Smith & Sons knew it had to diversify. Since the company began in 1973 with one truck in the Wolverhampton area, the haulier had concentrated its business on moving furniture. But as local removal companies fell victim to the housing slump, the company went on the hunt for contract work.
Its efforts were rewarded with steady business from two major furniture manufacturers, Ultra Furniture and Ashley Manor, which today host Stan Smith's operations at its Kingswinford sites. The initial Ultra Furniture contract was secured in 1986, followed by the Ashley Manor deal. Business has thrived since then, even during the recession. MD Phil Smith is keen to show how much The company certainly came from humble beginnings, and Phil has been there every step of the way. He was 13 when his father, Stan Smith, started the business and spent many of his weekends and school holidays helping in the yard and learning about the industry. Today, the firm runs 10 vehicles and Phil says the company would not be where it is today without the driving force of brother Rob, who took on the business along with Phil after their older brother, John, died a few years ago.
Birthday treats The company has recently taken on a new Daf XF to mark its 40th anniversary. The truck is a rare new purchase for the haulier, and is a departure from its normal practice of buying used vehicles that are more suited to the lightweight nature of its work. Phil says Daf's reliability and cheap spare parts are attractive, but the company chose the model to avoid the introduction of Euro-6 and its transition to running low-ride trucks. The company and its drivers are also impressed with two MANs they have recently been trialling.
Low-ride trailers are also part of the firm's fleet: last year it took an order of eight SDC Mega low-loader trailers, followed this year by two more Cartwright trailers.
Replacing the fleet is not an expensive operation for the haulier as it tends to buy used trucks at about two years old. The relatively light loads allow them to run for a further eight years. "We're constantly looking to improve on the product that we use for the business," Phil says. "I've got a 20-year life on trailers, which sounds old, but, because of the lightweight nature of this job, the trucks are doing no work."
Despite taking a relaxed approach to replacing its vehicles, Stan Smith is keen to ensure its truck and trailer interiors are maintained to a high standard, and the company is committed to carrying out refurbishments whenever needed.
A big part of Phil's ethos is to ensure his drivers maintain a professional attitude and are well equipped for the job, especially given the fragile nature of the goods moved. Drivers are invited to attend a bespoke training course when they join, especially if they don't have experience in the furniture industry, so that they acquire the skills to load and unload furniture correctly. Phil is keen to point out that the drivers know their needs best, so courses are as intense and as long as they need to be.
Stan Smith is on target for hitting the September 2014 Driver CPC deadline, even though many drivers are reluctant to carry out the training. Since many of the drivers are experienced, the company tries to make the courses stimulating. It tends to run its Driver CPC courses throughout Christmas and Easter.
Phil says: "We started the courses at the same time and next January will be the end of the five-year training, so it will be completed — until the next thing comes along. There'll be more legislation in this industry than you can shake a stick at."
Ensuring that drivers are aware of the firm's responsibility to remain compliant is also something that Phil is keen to enforce, so the company recently introduced a £10.50 a day bonus for drivers with no tachograph problems. "I don't know of any other company in the industry that does it," says Phil. "It's a good incentive, even when we're analysing the tachos at the end of the week. It's never going to be 100% [correct] but, with the incentives, it makes a big difference."
The firm has recently invested in telematics systems to help it cut out non-compliance, as well as improve efficiency across its routes. Phil hopes this system will give the company more pointers in terms of monitoring driving styles and fuel consumption but, like many operators, it has struggled to maintain decent rates to cover the rising cost of fuel. "We try to keep our rates down and we don't want to have to pass it on to our customers," he says. "Everyone's trying to tighten their belts and we can't pass it on at the moment, but I'm hopeful."
In the past, the company has strayed into different types of haulage, including European routes and general haulage, to increase profit and reimburse its losses. It wasn't a sustainable, long-term option, however, so the firm now only offers jobs to the Continent if the price is worthwhile.
Competing with the Continent "British hauliers can't compete with foreign hauliers. There's no way we can compete with their cheap labour and cheap fuel. The only service we offer to Europe is for specific manufacturers that realise they've got to pay a premium because they can't send it on general freight."
But he adds that, when the firm does take on a job on the Continent, most customers understand when the business renegotiates a price that is more economical for it to operate with.
Smith is also thankful to customers who listen to the company's requests to make routes more cost-effective by improving load fill. Trailers are now filled in a way that ensures every vehicle is used as effectively as possible.
"There's an argument that if we're consolidating the orders we can make the routes more profitable, but that's our problem, not the customer's," Phil says. "Over the years they have listened to us and allowed us to influence the way they fill their loads, so we have cut down on wastage. We'll never cut it down 100%. Unfortunately, it's just the nature of the business."
As for the future, Phil hopes that business in the furniture market will continue to be the main source of work. It is also targeting work from other manufacturers and is determined to maintain its reputation as a specialist furniture haulier. It also hopes that, as it wins more business, it will increase the size of its trailer fleet when it replaces some of its older models this year.
"It's just ourselves and two or three large companies left in furniture haulage, whereas 10 or 15 years ago there were much more, but they've fallen by the wayside," Phil says. "We just try to deliver the best service we can, using the right equipment." •