The government is consulting on proposals that will make it
1st August 2013
Page 23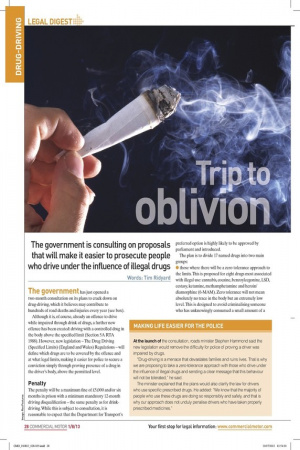 Page 24
Page 23, 1st August 2013 —
The government is consulting on proposals that will make it
Close
easier to prosecute people who drive under the influence of illegal drugs The government has just opened a two-month consultation on its plans to crack down on drug-driving, which it believes may contribute to hundreds of road deaths and injuries every year (see box).
Although it is, of course, already an offence to drive while impaired through drink of drugs, a further new offence has been created: driving with a controlled drug in the body above the specified limit (Section 5A RTA 1988). However, new legislation — The Drug Driving (Specified Limits) (England and Wales) Regulations — will define which drugs are to be covered by the offence and at what legal limits, making it easier for police to secure a conviction simply through proving presence of a drug in the driver's body, above the permitted level.
Penalty The penalty will be a maximum fine of £5,000 and/or six months in prison with a minimum mandatory 12-month driving disqualification — the same penalty as for drinkdriving. While this is subject to consultation, it is reasonable to expect that the Department for Transport's preferred option is highly likely to be approved by parliament and introduced.
The plan is to divide 17 named drugs into two main groups: • those where there will be a zero-tolerance approach to the limits. This is proposed for eight drugs most associated with illegal use: cannabis, cocaine, benzoylecgonine, LSD, ecstasy, ketamine, methamphetamine and heroin/ diamorphine (6-MAM). Zero tolerance will not mean absolutely no trace in the body but an extremely low level. This is designed to avoid criminalising someone who has unknowingly consumed a small amount of a drug, for example through passive smoking; • those where there will be a road safety risk approach. This is proposed for eight controlled drugs that have medical uses. An offence will take place where there are levels above normal therapeutic levels. Examples of these drugs are morphine, temazepam, oxazepam, methadone and diazepam.
For a further controlled drug, amphetamine, a limit is not proposed in the consultation and the government is seeking views on what a suitable limit might be, as the drug is used both illegally and legally through medical use.
Specific level In drink-driving cases, there has always been a specific level of alcohol over which it is not lawful to drive and a breath, blood or urine test easily determines this by a simple measurement.
One of the problems with a change in the law in relation to drugs other than alcohol is that it has to cover a range of drugs that have wholly diverse characteristics and effects on the body. Screening has to be for a range of possible drugs, but there is no one single test that can screen all drugs. Police will also need approved devices to screen drivers for drug use.
It is proposed that preliminary testing — normally at the roadside — will be carried out by up to three preliminary saliva drug-screening tests, but only where an officer suspects a driver has a drug in his body; is under the influence of a drug; where a driver has committed a traffic offence; or if the driver has been involved in a road traffic accident. A positive result will then enable an officer to go on to the next stage of requiring a blood test, which will be definitive evidence on which to base a prosecution.
Suitable evidence A urine test is an alternative, but problems may arise as the presence of drugs in urine is not suitable evidence to prove concentrations of drug or impairments elsewhere in the body in the same way as a blood test does.
It is also intended that a driver will be able to raise a defence to the new offence: that he or she was taking the drug as medication, legitimately on medical or dental advice. This defence will be available as long as it was prescribed and was being used in accordance with the medical directions and manufacturer's advice. The defence is not available if possession of the drug would be illegal under the Misuse of Drugs Act 1971.
While many hauliers already have internal drink and drugs policies to try to police substance abuse in their businesses, the introduction of this offence will undoubtedly reel in those drivers who do drive with drugs present in their bodies and who may well have gone undetected up until now. • • Tim Ridyard is partner and solicitor, road transport regulatory law, at Woodfines Solicitors, Cambridge. Email: hidyard@woodfines.co.uk