MAKING LIFE EASIER FOR THE POLICE At the launch of
1st August 2013
Page 23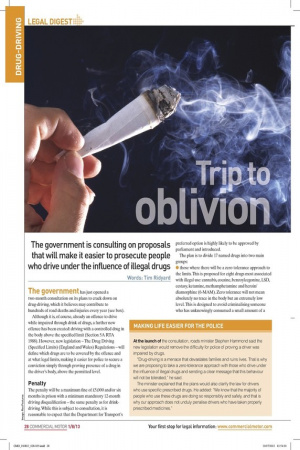 Page 23, 1st August 2013 —
MAKING LIFE EASIER FOR THE POLICE At the launch of
Close
the consultation, roads minister Stephen Hammond said the new legislation would remove the difficulty for police of proving a driver was impaired by drugs.
"Drug-driving is a menace that devastates families and ruins lives. That is why we are proposing to take a zero-tolerance approach with those who drive under the influence of illegal drugs and sending a clear message that this behaviour will not be tolerated," he said.
The minister explained that the plans would also clarify the law for drivers who use specific prescribed drugs. He added: "We know that the majority of people who use these drugs are doing so responsibly and safely, and that is why our approach does not unduly penalise drivers who have taken properly prescribed medicines."