Formal warning after brake disc cracked KEVIN ROONEY, North East
1st August 2013
Page 21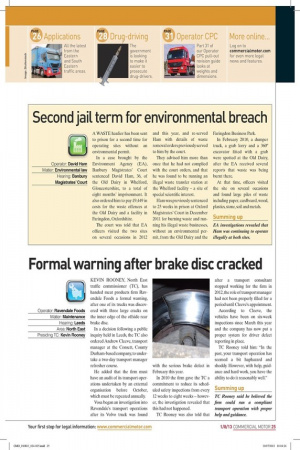 Page 21, 1st August 2013 —
Formal warning after brake disc cracked KEVIN ROONEY, North East
Close
traffic commissioner (TC), has handed meat products firm Ravendale Foods a formal warning, after one of its trucks was discovered with three large cracks on the inner edge of the offside rear brake disc.
In a decision following a public inquiry held in Leeds, the TC also ordered Andrew Cleeve, transport manager at the Consett, County Durham-based company, to undertake a two-day transport manager refresher course.
He added that the firm must have an audit of its transport operations undertaken by an external organisation before October, which must be repeated annually.
Vosa began an investigation into Ravendale's transport operations after its Volvo truck was found with the serious brake defect in February this year.
In 2010 the firm gave the TC a commitment to reduce its scheduled safety inspections from every 12 weeks to eight weeks — however, the investigation revealed that this had not happened.
TC Rooney was also told that after a transport consultant stopped working for the firm in 2012, the role of transport manager had not been properly filled for a period until Cleeve's appointment.
According to Cleeve, the vehicles have been on six-week inspections since March this year and the company has now put a proper system for driver defect reporting in place.
TC Rooney told him. "In the past, your transport operation has seemed a bit haphazard and shoddy. However, with help, guidance and hard work, you have the ability to do it reasonably well."
Summing up TC Rooney said he believed the firm could run a compliant transport operation with proper help and guidance.