Lack of inspections ends in revocation Ruby Skip Hire has
1st August 2013
Page 20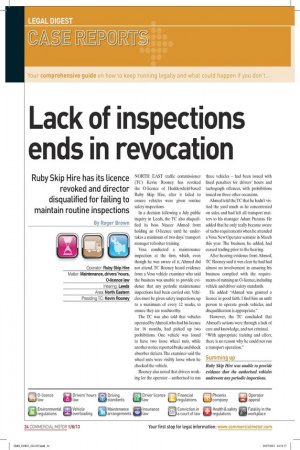 Page 20, 1st August 2013 —
Lack of inspections ends in revocation Ruby Skip Hire has
Close
its licence revoked and director disqualified for failing to maintain routine inspections By Roger Brown NORTH EAST traffic commissioner (TC) Kevin Rooney has revoked the 0-licence of Huddersfield-based Ruby Skip Hire, after it failed to ensure vehicles were given routine safety inspections.
In a decision following a July public inquiry in Leeds, the TC also disqualified its boss Naseer Ahmed from holding an 0-licence until he undertakes a minimum of two days' transport manager refresher training.
Vosa conducted a maintenance inspection at the firm, which, even though he was aware of it, Ahmed did not attend. TC Rooney heard evidence from a Vosa vehicle examiner who said the business was unable to provide evidence that any periodic maintenance inspections had been carried out. Vehicles must be given safety inspections, up to a maximum of every 12 weeks, to ensure they are roadworthy.
The TC was also told that vehicles operated by Ahmed, who had his licence for 16 months, had picked up two prohibitions. One vehicle was found to have two loose wheel nuts, while another notice reported brake and shock absorber defects. The examiner said the wheel nuts were visibly loose when he checked the vehicle.
Rooney also noted that drivers working for the operator — authorised to run three vehicles — had been issued with fixed penalties for drivers' hours and tachograph offences, with prohibitions issued on three other occasions.
Ahmed told the TC that he hadn't visited the yard much as he concentrated on sales, and had left all transport matters to his manager Adam Puzaras. He added that he only really became aware of tacho requirements when he attended a Vosa New Operator seminar in March this year. The business, he added, had ceased trading prior to the hearing.
After hearing evidence from Ahmed, TC Rooney said it was clear he had had almost no involvement in ensuring his business complied with the requirements of running an 0-licence, including vehicle and driver safety standards.
He added: "Ahmed was granted a licence in good faith. I find him an unfit person to operate goods vehicles, and disqualification is appropriate."
However, the TC concluded that Ahmed's actions were through a lack of care and knowledge, and not criminal. "With appropriate training and effort, there is no reason why he could not run a transport operation."
Summing up Ruby Skip Hire was unable to provide evidence that the authorised vehicles underwent any periodic inspections.