How much? Bloody hell Over the past five years there
1st August 2013
Page 2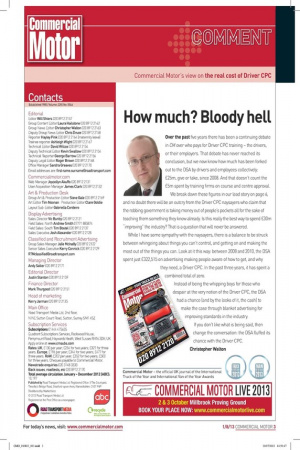 Page 2, 1st August 2013 —
How much? Bloody hell Over the past five years there
Close
has been a continuing debate in CM over who pays for Driver CPC training the drivers, or their employers. That debate has never reached its conclusion, but we now know how much has been forked out to the DSA by drivers and employees collectively: £25m, give or take, since 2008. And that doesn't count the 111* £5m spent by training firms on course and centre approval. We break down these figures in our lead story on page 6, and no doubt there will be an outcry from the Driver CPC naysayers who claim that the robbing government is taking money out of people's pockets all for the sake of teaching them something they know already. Is this really the best way to spend £30m -improvingthe industry? That is a question that will never be answered.
While I have some sympathy with the naysayers, there is a balance to be struck between whingeing about things you can't control, and getting on and making the most out of the things you can. Look at it this way: between 2008 and 2010, the DSA spent just £322,515 on advertising making people aware of how to get, and why they need, a Driver CPC. In the past three years, it has spent a combined total of zero.
oN'P Instead of being the whipping boys for those who despair at the very notion of the Driver CPC, the DSA If you don't like what is being said, then change the conversation: the DSA fluffed its chance with the Driver CPC.
Christopher Walton