Reaping the benefits Ford & Slater is set to enjoy
1st August 2013
Page 13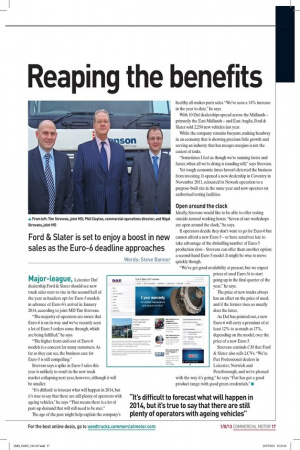 Page 13, 1st August 2013 —
Reaping the benefits Ford & Slater is set to enjoy
Close
a boost in new sales as the Euro-6 deadline approaches WIWI DLCVC Ddliner Major-league, Leicester Daf dealership Ford & Slater should see new truck sales start to rise in the second half of the year as hauliers opt for Euro-5 models in advance of Euro-6's arrival in January 2014, according to joint MD Tim Strevens.
"The majority of operators are aware that Euro-6 is on its way and we've recently seen a lot of Euro-5 orders come through, which are being fulfilled," he says.
"The higher front-end cost of Euro-6 models is a concern for many customers. As far as they can see, the business case for Euro-5 is still compelling."
"It's difficult to forecast what will happen in 2014, but it's true to say that there are still plenty of operators with ageing vehicles," he says. "That means there is a lot of pent-up demand that will still need to be met."
The age of the parc might help explain the company's healthy all-makes parts sales. "We've seen a 14% increase in the year to date," he says.
With 10 Daf dealerships spread across the Midlands — primarily the East Midlands — and East Anglia, Ford & Slater sold 2,250 new vehicles last year.
While the company remains buoyant, making headway in an economy that is showing precious little growth and serving an industry that has meagre margins is not the easiest of tasks.
"Sometimes I feel as though we're running faster and faster, when all we're doing is standing still," says Strevens.
Yet tough economic times haven't deterred the business from investing. It opened a new dealership in Coventry in November 2011, relocated its Newark operation to a purpose-built site in the same year and now operates six authorised testing facilities.
Open around the clock Ideally, Strevens would like to be able to offer testing outside normal working hours. "Seven of our workshops are open around the clock," he says.
If operators decide they don't want to go for Euro-6 but cannot afford a new Euro-5 — or have acted too late to take advantage of the dwindling number of Euro-5 production slots — Strevens can offer them another option: a second-hand Euro-5 model. It might be wise to move quickly though.
The price of new trucks always has an effect on the price of used; and if the former rises, so usually does the latter.
As Daf has pointed out, a new Euro-6 will carry a premium of at least 12% to as much as 17%, depending on the model, over the price of a new Euro-5.
Strevens reminds CM that Ford & Slater also sells LCVs. "We're Fiat Professional dealers in Leicester, Norwich and Peterborough, and we're pleased with the way it's going," he says. "Fiat has got a good product range; with good green credentials." •