Nice truck, shame about the looks FURTHER TO the letters
1st August 2013
Page 11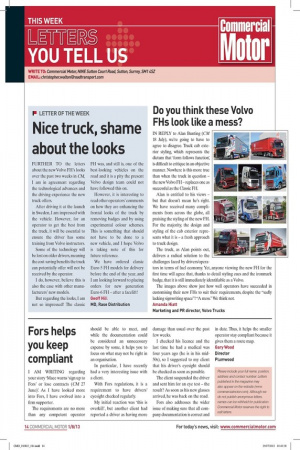 Page 11, 1st August 2013 —
Nice truck, shame about the looks FURTHER TO the letters
Close
about the new Volvo FH's looks over the past two weeks in CM, I am in agreement regarding the technological advances and the driving experience the new truck offers.
After driving it at the launch in Sweden, I am impressed with the vehicle. However, for an operator to get the best from the truck, it will be essential to ensure the driver has some training from Volvo instructors.
Some of the technology will be lost on older drivers, meaning the cost-saving benefits the truck can potentially offer will not be received by the operator.
I do, however, believe this is also the case with other manufacturers' new models.
But regarding the looks, I am not so impressed! The classic FH was, and still is, one of the best-looking vehicles on the road and it is a pity the present Volvo design team could not have followed this on.
However, it is interesting to read other operators' comments on how they are enhancing the frontal looks of the truck by removing badges and by using experimental colour schemes. This is something that should not have to be done to a new vehicle, and I hope Volvo is taking note of this for future reference.
We have ordered classic Euro-5 FH models for delivery before the end of the year, and I am looking forward to placing orders for new generation Euro-6 FH — after a facelift! Geoff Hill MD, Rase Distribution