Fors helps you keep compliant I AM WRITING regarding your
1st August 2013
Page 11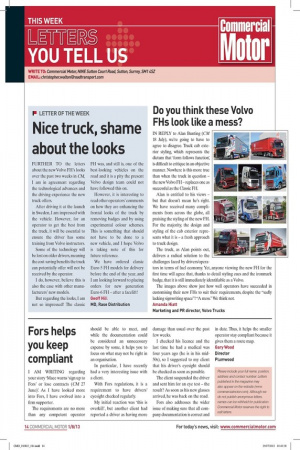 Page 11, 1st August 2013 —
Fors helps you keep compliant I AM WRITING regarding your
Close
story 'Mace warns 'sign up to Fors' or lose contracts (CM 27 June): As I have looked more into Fors, I have evolved into a firm supporter.
The requirements are no more than any competent operator should be able to meet, and while the documentation could be considered an unnecessary expense by some, it helps you to focus on what may not be right in an organisation.
In particular, I have recently had a very interesting issue with a client.
With Fors regulations, it is a requirement to have drivers' eyesight checked regularly.
My initial reaction was 'this is overkill', but another client had reported a driver as having more damage than usual over the past few weeks.
I checked his licence and the last time he had a medical was four years ago (he is in his mid50s), so I suggested to my client that his driver's eyesight should be checked as soon as possible.
The client suspended the driver and sent him for an eye test — the result? As soon as his new glasses arrived, he was back on the road.
Fors also addresses the wider issue of making sure that all company documentation is correct and in date. Thus, it helps the smaller operator stay compliant because it gives them a route map.
Gary Wood Director Plumwood