EU wants VAT to be added to UK tolls
1st August 1996
Page 6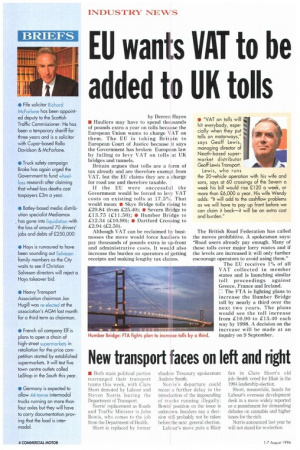 Page 6, 1st August 1996 —
EU wants VAT to be added to UK tolls
Close
by Derren Hayes • Hauliers may have to spend thousands of pounds extra a year on tolls because the European Union wants to charge VAT on them. The EU is taking Britain to European Court of Justice because it says the Government has broken European law by failing to levy VAT on tolls at UK bridges and tunnels.
Britain argues that tolls are a form of tax already and are therefore exempt from VAT, but the EU claims they are a charge for road use and therefore taxable.
If the EU were successful the Government would be forced to levy VAT costs on existing tolls at 17.5%. That would mean: • Skye Bridge tolls rising to £29.84 (from £25.40); • Severn Bridge to £13.75 (£11.50); • Humber Bridge to £12.34 (1:10.90); • Dartford Crossing to £2.94 (£2.50).
Although VAT can be reclaimed by businesses the move would force hauliers to pay thousands of pounds extra in up-front and administrative costs. It would also increase the burden on operators of getting receipts and making lengthy tax claims. The British Road Federation has called the moves prohibitive. A spokesman says: "Road users already pay enough. Many of these tolls cover major lorry routes and if the levels are increased it will only further encourage operators to avoid using them."
The EU receives 1% of all VAT collected in member states and is launching similar toll proceedings against Greece, France and Ireland.
17 The FTA is fighting plans to increase the Humber Bridge toll by nearly a third over the next two years. The plans would see the toll increase from £10.90 to £15.40 each way by 1998. A decision on the increase will be made at an inquiry on 9 September.