Failing to notify changes puts your licence at risk
1st August 1996
Page 42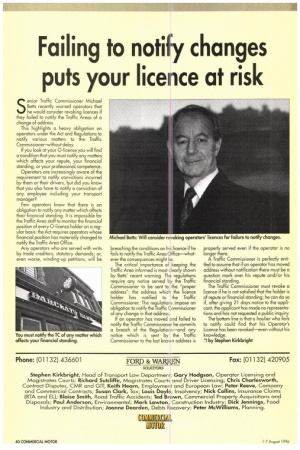 Page 42, 1st August 1996 —
Failing to notify changes puts your licence at risk
Close
Senior Traffic Commissioner Michael Betts recently warned operators that he would consider revoking licences if they failed to notify the Traffic Areas of a change of address.
This highlights a heavy obligation on operators under the Act and Regulations to notify various mailers to the Traffic Commissioner-without delay. If you look at your 0-licence you will find a condition that you must notify any matters which affects your repute, your financial standing, or your professional competence. Operators are increasingly aware of the requirement to notify convictions incurred by them or their drivers, but did you know that you also have to notify a conviction of any employee including your transport manager? Few operators know that there is an obligation to notify any matter which affects their financial standing. It is impossible for the Traffic Area staff to monitor the financial position of every 0-licence holder on a regular basis: the Act requires operators whose financial position has materially changed to notify the Traffic Area Office. Any operators who are served with writs by trade creditors; statutory demands; or, even worse, winding-up petitions, will be
breaching the conditions on his licence if he fails to notify the Traffic Area Office—whatever the consequences might be.
The critical importance of keeping the Traffic Area informed is most clearly shown by Betts' recent warning. The regulations require any notice served by the Traffic Commissioner to be sent to the "proper address": the address which the licence holder has notified to the Traffic Commissioner. The regulations impose an obligation to notify the Traffic Commissioner of any change in that address. If an operator has moved and failed to notify the Traffic Commissioner he commits a breach of the Regulations—and any notice which is sent by the Traffic Commissioner to the last known address is properly served even if the operator is no longer there. A Traffic Commissioner is perfectly entitled to assume that if an operator has moved address without notification there must be a question mark over his repute and/or his financial standing. The Traffic Commissioner must revoke a licence if he is not satisfied that the holder is of repute or financial standing; he can do so if, alter giving 21 days notice to the applicant, the applicant has made no representations and has not requested a public inquiry. The bottom line is that a haulier who fails to notify could find that his Operator's Licence has been revoked—even without his knowledge.
Ti by Stephen Kirkbright