Get to grips with 0-licence exemptions
1st August 1996
Page 41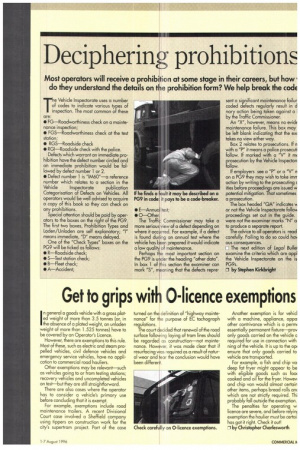 Page 41, 1st August 1996 —
Get to grips with 0-licence exemptions
Close
n general a goods vehicle with a gross plated weight of more than 3.5 tonnes jor, in the absence of a plated weight, an unladen weight of more than 1 525 tonnes) have to be covered by an Operator's Licence.
However, there are exemptions to this rule. Most of these, such as electric and steam propelled vehicles, civil defence vehicles and emergency service vehicles, have no application to commercial road hauliers.
Other exemptions may be relevant—such as vehicles going to or from testing stations; recovery vehicles and uncompleted vehicles on test—but they are still straightforward. There are also cases where the operator has to consider a vehicle's primary use before concluding that it is exempt.
For example, exemptions include road maintenance trailers. A recent Divisional Court case involved a Sheffield company using tippers OR construction work for the city's supertram project. Part of the case
turned on the definition of "highway maintenance" for the purpose of EC tachograph regulations.
The court decided that renewal of the road surface following laying of tram lines should be regarded as construction—not maintenance. However, it was made clear that if resurfacing was required as a result of natural wear and tear the conclusion would have been different
Another exemption is for verlicl with a machine, appliance, appa other contrivance which is a perm essentially permanent fixture--prov only goods carried on the vehicle c required for use in connection with ning of the vehicle_ It is up to the op+ ensure that only goods carried to vehicle are transported.
For example, a fish and chip va deep fat fryer might appear to be with eligible goods such as fooi cooked and oilfor the fryer. Howev, and chip van would almost certain other items, perhaps bread rolls am which are not strictly required. Thi probably fall outside the exemption.
The penalties for operating w licence are severe, and before relyin exemption the haulier must be certai has got it right. Check it out!
7 by Christopher Chariesworth