EGAI
1st August 1996
Page 39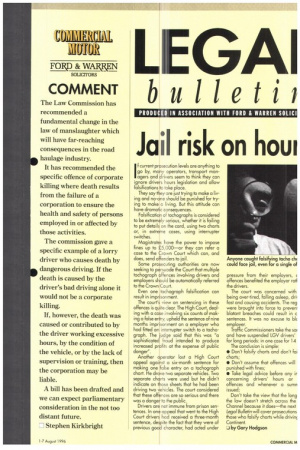 Page 39, 1st August 1996 —
EGAI
Close
bulletil
Jail risk on houi
If current prosecution levels are anything to go by, many operators, transport managers and drivers seem to think they can ignore drivers hours legislation and allow falsifications to take place.
They say they are just trying to make a living and no-one should be punished for trying to make a living. But this attitude can have dramatic consequences. Falsification of tachographs is considered to be extremely serious, whether it is failing to put details on the card, using two charts or, in extreme cases, using interrupter switches.
Magistrates have the power to impose fines up to £5,000—or they can refer a case to the Crown Court which can, and does, send offenders to jail. Some prosecuting authorities are now seeking to persuade the Court that multiple tachograph offences involving drivers and employers should be automatically referred to the Crown Court.
Even one tachograph falsification can result in imprisonment. The court's view on sentencing in these offences is quite clear. The High Court, dealing with a case involving six counts of making a false entry, upheld the sentence of nine months imprisonment on a employer who had fitted an interrupter switch to a tachograph. The judge said that this was "a sophisticated -mud intended to produce increased profits at the expense of public danger". Another operator lost a High Court appeal against a six-month sentence for making one false entry on a tachograph chart. He drove two separate vehicles. Two separate charts were used but he didn't indicate on those sheets that he had been driving two velides. The court considered that these offer ces are so serious and there was a danger to the public. Drivers are riot immune from prison sentences. In one appeal that went to the High Court drivers hod received a three-month sentence, despite the fact that they were of previous good character, had acted under pressure from their employers, offences benefited the employer ratl the drivers.
The court was concerned with being over-tired, falling asleep, drit fast and causing accidents. The reg were brought into force to prevent blatant breaches could result in c sentences. It was no excuse to blc employer. Traffic Commissioners take the sal and have suspended LGV drivers' for long periods: in one case for 1 4 The conclusion is simple: • Don't falsify charts and don't fai charts; • Don't assume that offences will punished with fines; • Take legal advice before any ir concerning drivers' hours or offences and whenever a sumn issued; Don't take the view that the long the law doesn't stretch across the Channel because it does—the next Legal Bulletin will cover prosecutions those who falsify charts while clrivin Continent ▪ by Gary Hodgson