NG
1st August 1996
Page 36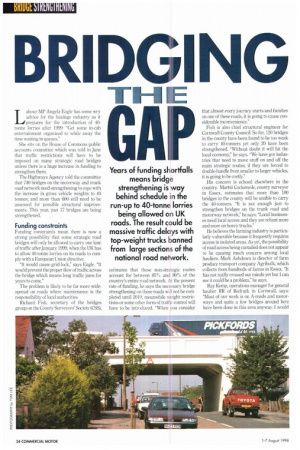 Page 37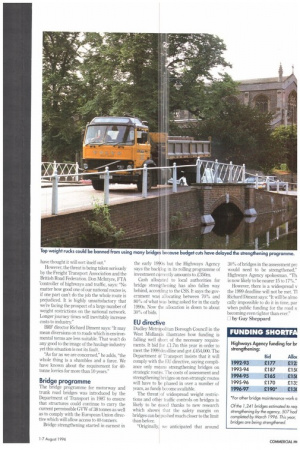 Page 36, 1st August 1996 —
NG
Close
FlUE
Labour MP Angela Eagle has some wry advice for the haulage industry as it prepares for the introduction of 40tonne lorries after 1999: "Get some in-cab entertainment organised to while away the time waiting in queues."
She sits on the House of Commons public accounts committee which was told in June that traffic restrictions will have to be imposed on many strategic road bridges unless there is a huge increase in funding to strengthen them.
The Highways Agency told the committee that 740 bridges on the motorway and trunk road network need strengthening to cope with the increase in gross vehicle weights to 40 tonnes; and more than 600 still need to be assessed for possible structural improvements. This year, just 17 bridges are being strengthened.
Funding constraints mean there is now a strong possibility that some strategic road bridges will only be allowed to carry one lane of traffic after January 1999, when the UK has to allow 40-tonne lorries on its roads to comply with a European Union directive.
"It would cause grid-lock," says Eagle. "It would prevent the proper flow of traffic across the bridge which means long traffic jams for years to come."
The problem is likely to be far more widespread on roads where maintenance is the responsibility of local authorities.
Richard Fish, secretary of the bridges group on the County Surveyors' Society (CSS), estimates that these non-strategic routes account for between 85% and 90% of the country's entire road network. At the present rate of funding, he says the necessary bridge strengthening on these roads will not be completed until 2010; meanwhile weight restrictions or some other form of traffic control will have to be introduced. "When you consider that almost every journey starts and finishes on one of these roads, it is going to cause considerable inconvenience."
Fish is also chief structural engineer for Cornwall County Council. So far, 120 bridges in the county have been found to be too weak to carry 40-tonners yet only 20 have been strengthened. "Without doubt it will hit the local economy," he says. "We have got industries that need to move stuff on and off the main strategic routes; if they are forced to double-handle from smaller to larger vehicles, it is going to be costly."
his concern is echoed elsewhere in the country. Martin Cockersole, county surveyor in Essex, estimates that more than 100 bridges in the county will be unable to carry the 40-tonners. "It is not enough just to strengthen bridges on the trunk road and motorway network," he says. "Local businesses need local access and they are reliant more and more on heavy trucks."
lie believes the farming industry is particularly vulnerable because it frequently requires access in isolated areas. As yet, the possibility of road access being curtailed does not appear to be causing much concern among local hauliers. Mark Ashdown is director of farm produce transport company Agribulk, which collects from hundreds of farms in Essex. "It has not really crossed our minds yet but I can see it could be a problem," he says.
Ray Kemp, operations manager for general haulier RR of Redruth in Cornwall, says: "Most of our work is on A-roads and motorways and quite a few bridges around here have been done in this area anyway. I would have thought it will sort itself out."
However, the threat is being taken seriously by the Freight Transport Association and the British Road Federation. Don McIntyre, FTA 'controller of highways and traffic, says: "No matter how good one of our national routes is, if one part can't do the job the whole route is prejudiced. It is highly unsatisfactory that we're facing the prospect of a large number of weight restrictions on the national network. Longer journey times will inevitably increase costs to industry" BRF director Richard Diment says: "It may mean diversions on to roads which in environmental terms are less suitable. That won't do any good to the image of the haulage industry yet this situation is not its fault.
"As far as we are concerned," he adds, "the whole thing is a shambles and a farce. We have known about the requirement for 40tonne lorries for more than 10 years."
The bridge programme for motorway and trunk road bridges was introduced by the Department of Transport in 1987 to ensure that structures could continue to carry the current permissible GVW of 38 tonnes as well as to comply with the European Union directive which will allow access to 40-tonners.
Bridge strengthening started in earnest in the early 1990s but the Highways Agency says the backlog in its rolling programme of investment currently amounts to £350m.
Cash allocated to local authorities for bridge strengthening has also fallen way behind, according to the CSS. It says the government was allocating between 70% and 80% of what was being asked for in the early 1990s. Now the allocation is down to about 30'), of bids.
Dudley Metropolitan Borough Council in the West Midlands illustrates how funding is falling well short of the necessary requirements. It bid for £1.7m this year in order to meet the 1999 deadline and got £454080. The Department of Transport insists that it will comply with the EU directive, saying compliance only means strengthening bridges on strategic routes. The costs of assessment and strengthening bridges on non-strategic routes will have to be phased in over a number of years, as funds become available.
The threat of widespread weight restrictions and other traffic controls on bridges is likely to be eased thanks to new research which shows that the safety margin on bridges can be pushed much closer to the limit than before.
"Originally, we anticipated that around 30% of bridges in the assessment prc would need to be strengthened," Highways Agency spokesman. "Th is now likely to be nearer 15 to 17%."
However, there is a widespread v the 1999 deadline will not be met. TI Richard Diment says: "It will be alma cally impossible to do it in time, par when public funding for the road s: becoming even tighter than ever."
0 by Guy Sheppard