Transport and Allied Services
1st August 1996
Page 35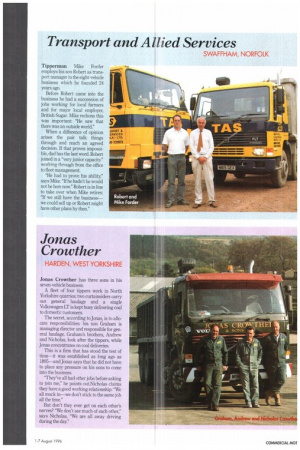 Page 35, 1st August 1996 —
Transport and Allied Services
Close
Tipperman Mike Forder employs his son Robert as transport manager in the eight-vehicle business which he founded 24 years ago.
Before Robert came into the business he had a succession of jobs working for local farmers and for major local employer, British Sugar. Mike reckons this was important: "He saw that there was an outside world."
When a difference of opinion arises the pair talk things through and reach an agreed decision. If that proves impossible, dad has the last word. Robert joined in a "very junior capacity" working through from the office to fleet management "He had to prove his ability," says Mike. "If he hadn't he would not be here now." Robert is in line to take over when Mike retires: "If we still have the business we could sell up or Robert might have other plans by then."