Jonas Crowther
1st August 1996
Page 35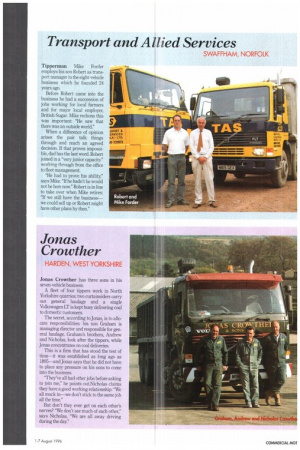 Page 35, 1st August 1996 —
Jonas Crowther
Close
HARDEN, WEST YORKSHIRE
Jonas Crowther has three sons in his seven-vehicle business.
A fleet of four tippers work in North Yorkshire quarries; two curtainsiders carry out general haulage and a single Volkswagen LT is kept busy delivering coal to domestic customers.
The secret, according to Jonas, is to allocate responsibilities: his son Graham is managing director and responsible for general haulage. Graham's brothers, Andrew and Nicholas, look after the tippers, while Jonas concentrates on coal deliveries.
This is a firm that has stood the test of time—it was established as long ago as 1895—and Jonas says that he did not have to place any pressure on his sons to come into the business.
"They've all had other jobs before asking to join me," he points out.Nicholas claims they have a good working relationship: "We all muck in—we don't stick to the same job all the time."
But don't they ever get on each other's nerves? "We don't see much of each other," says Nicholas, "We are all away driving during the day."