W Stevenson
1st August 1996
Page 34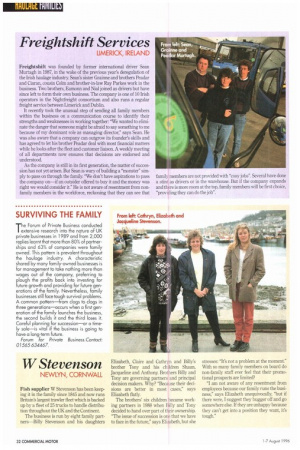 Page 34, 1st August 1996 —
W Stevenson
Close
NEWLYN, CORNWALL
Fish supplier W Stevenson has been keeping it in the family since 1845 and now runs Britain's largest trawler fleet which is backed up by a fleet of 25 trucks to handle distribution throughout the UK and the Continent.
The business is run by eight family part ners Billy Stevenson and his daughters Elizabeth, Claire and Cathryn and Billy's brother Tony and his children Shaun, Jacqueline and Anthony. Brothers Billy and Tony are governing partners and principal decision makers. Why? "Because their decisions are better in most cases," says Elizabeth flatly The brothers' six children became working partners in 1988 when Billy and 'Tony decided to hand over part of their ownership. "The issue of succession is one that we have to face in the future," says Elizabeth, but she stresses: "It's not a problem at the moment." With so many family members on board do non-family staff ever feel that their promotional prospects are limited?
"I am not aware of any resentment from employees because our family runs the business," says Elizabeth unequivocally, "but if there were, I suggest they bugger off and go somewhere else. If they are unhappy because they can't get into a position they want, it's tough."