Freightshift Services
1st August 1996
Page 34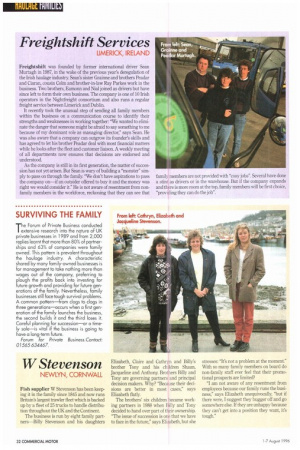 Page 34, 1st August 1996 —
Freightshift Services
Close
LIMERICK, IRELAND
Freightshift was founded by former international driver Sean Murtagh in 1987, in the wake of the previous year's deregulation of the Irish haulage industry. Sean's sister Grainne and brothers Peadar and Ciaran, cousin Colm and brother-in-law Ray Parkes work in the business. Two brothers, Eamonn and Nial joined as drivers but have since left to form their own business. The company is one of 10 Irish operators in the Nightfreight consortium and also runs a regular freight service between Limerick and Dublin.
It recently took the unusual step of sending all family members within the business on a communication course to identify their strengths and weaknesses in working together: We wanted to eliminate the danger that someone might be afraid to say something to me because of my dominant role as managing director," says Sean. He was also aware that a company can outgrow its founder's skills and has agreed to let his brother Peadar deal with most financial matters while he looks after the fleet and customer liaison. A weekly meeting of all departments now ensures that decisions are endorsed and understood.
As the company is still in its first generation, the matter of succession has not yet arisen. But Sean is wary of building a "monster" simply to pass on through the family. "We don't have aspirations to pass the company on—if an outsider offered to buy it and the money was right we would consider it." He is not aware of resentment from nonfamily members in the workforce, reckoning that they can see that family members are not provided with "cosy jobs". Several have done a stint as drivers or in the warehouse. But if the company expands and there is more room at the top, family members will be first choice, "providing they can do the job".