Geoff Lewis Transport MAKING A CHOICE
1st August 1996
Page 33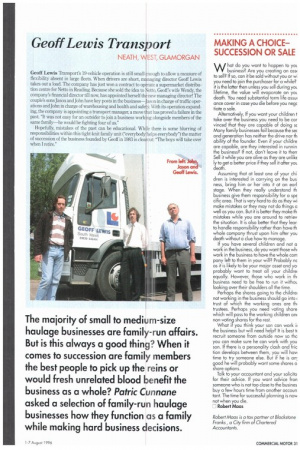 Page 33, 1st August 1996 —
Geoff Lewis Transport MAKING A CHOICE
Close
SUCCESSION OR SALE
NEATH, EST, GLAMORGAN
What do you want to happen to yot. business? Are you creating an ass( to sell? If so, can it be sold without you or wi you need to join the purchaser for a while? it is the latter then unless you sell during yot. lifetime, the value will evaporate on yoi. death. You need substantial term life assui once cover in case you die before you negc tiate a sale.
Alternatively, If you want your children t take over the lousiness you need to be cor vinced that they are capable of doing se Many family businesses fail because the sec ond generation has neither the drive nor th ability of the founder. Even if your childre are capable, are they interested in runnin the business? If not, don't leave it to therr Sell it while you are alive as they are unlikE ly to get a better price if they sell it after yot. death.
Assuming that at least one of your chi dren is interested in carrying on the bus ness, bring him or her into it at an earl stage. When they really understand th business give them responsibility for a spe cific area. That is very hard to do as they wi make mistakes or they may not do things a well as you can. But it is better they make th mistakes while you are around to retriev the situation. It is also better that they lear to handle responsibility rather than have th whole company thrust upon him after you death without a clue how to manage.
If you have several children and not a work in the business, do you want those whi work in the business to have the whole cam pony left to them in your will? Probably nc as it is likely to be your major asset and yo, probably want to treat all your childre equally. However, those who work in th, business need to be free to run it withoL looking over their shoulders all the time.
Perhaps the shares going to the childre not working in the business should go into ( trust of which the working ones are th, trustees. Perhaps you need voting share which will pass to the working children on non-voting shares for the rest. What if you think your son can work ii the business but will need help? It is best t( recruit someone from outside now so thc you can make sure he can work with you son. If there is a personality clash and fric tion develops between them, you will hav( time to try someone else. But if he is an; good he will probably want some shares o share options. Talk to your accountant and your solicito for their advice. If you want advice fron someone who is not too close to the busines buy a few hours time from another accoun toot. The time for successful planning is now not when you die.
Robert Maas
Robert Maas is a tax partner at Blackstone Franks, a City firm of Chartered Accountants.