bird's eye view by the hawk o brightly coloured you
1st August 1996
Page 23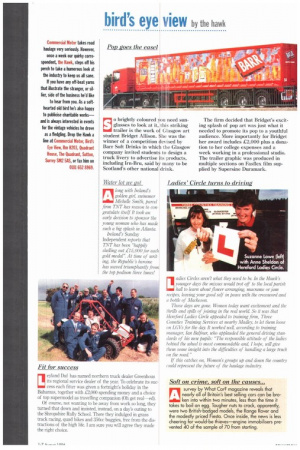 Page 23, 1st August 1996 —
bird's eye view by the hawk o brightly coloured you
Close
need sun glasses to look at it, this striking trailer is the work of Glasgow art student Bridget Allison. She was the winner of a competition devised by Barr Soft Drinks in which the Glasgow company invited students to design a truck livery to advertise its products, including Irn-Bru, said by many to be Scotland's other national drink. The firm decided that Bridget's exciting splash of pop art was just what it needed to promote its pop to a youthful audience. More importantly for Bridget her award includes £2,000 plus a donation to her college expenses and a week working in a professional studio. The trailer graphic was produced in multiple sections on Fasflex film supplied by Supersine Duramark.
A golden girl, swimmer Michelle Smith, parcel firm TNT has reason to congratulate itself It took an early decision to sponsor the young woman who h.as made such a big splash in Atlanta.
Ireland's Sunday Independent reports that TNT has been "happily shelling out £15,000 for each gold medal". At time of writing, the Republic's heroine has waved triumphantly froni the top podium three limes!
2 eyland Daf has named northern truck dealer Greenhous its regional service dealer of the year. To celebrate its success each fitter was given a fortnight's holiday in the Bahamas, together with £2,000 spending money and a choice of top supermodel as travelling companion (Oh get real--ed).
Of course, not wanting to be away from work so long, they turned that down and insisted, instead, on a day's outing to the Shropshire Rally School. There they indulged in grass track racing, quad bikes and 350cc buggies, free from the distractions of the high life. I am sure you will agree they made the right choice. 3 adies Circles aren't what they used to he. In the Hawk's younger days tlw missiis would trot off to the local parish hall to learn about flower arranging, macrame or jam recipes, leaving your good self in peace with the crossword and a bottle of Mackestm.
Those days are gone. Women today want excitement and the thrilLs and spills of joining in the real world So it was that Hereford Ladies Circle appealed to training firm, Three Counties Training Services at nearby Madle); to let them loose on LGVs for the day. It worked well, according to training manager, Ian Balfour, who applauded the general dnuing standards of his new pupils: "The responsible attitude of the ladies behind the wheel is most commendable and, I hope, will give them some insight into the difficulties of handling a large truck on the road" If this catches on, Women's groups up and down the country could represent the future of the haulage industry.