Small is tough
1st August 1996
Page 22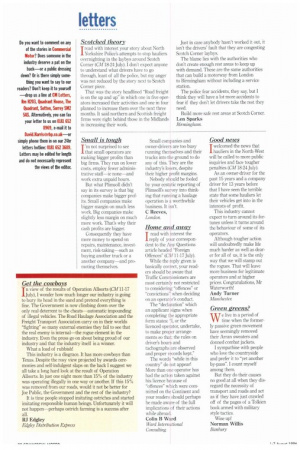 Page 22, 1st August 1996 —
Small is tough
Close
I'm not surprised to see that small operators are making bigger profits than big firms. They run on lower costs, employ fewer administrative staff—ie none—and work extra unpaid hours.
But what Plimsoll didn't say in its survey is that big companies make bigger profits. Small companies make bigger margin on much less work Big companies make slightly less margin on much more work. That's why their cash profits are bigger.
Consequently they have more money to spend on repairs, maintenance, investment. risk-taking—such as buying another truck or a another company—and promoting themselves. Small companies and owner-drivers are too busy running themselves and their trucks into the ground to do any of this. They are the industry's losers, despite their higher profit margins. Nobody should be fooled by your ecstatic reporting of Plimsoll's survey into thinking that running a haulage operation is a worthwhile business. It isn't.
C Reeves, London.
Home and away
T read with interest the / reply of your correspondent to the Any Questions article headed "Foreign Offences" (CM 11-17 July).
While the reply given is basically correct, your readers should be aware that Traffic Commissioners are most certainly not restricted to considering "offences" or "convictions" when deciding on an operator's conduct. The "declaration" which an applicant signs when completing the appropriate form states: "I, or the licenced operator, undertake, to make proper arrangements so that; the rules on driver's hours and tachographs are observed and proper records kept." The words "while in this country" do not appear! More than one operator has had the action taken against his licence because of "offences" which were committed on the Continent and your readers should perhaps be made aware of the full implications of their actions while abroad.
Colin B Ward Ward International Consulting
Good news
Iwelcomed the news that hauliers in the North-West will be called to more public inquiries and face tougher penalties (CM 18-24 July).
As an owner-driver for the past 15 years and a company driver for 13 years before that I have seen the terrible state that some hauliers let their vehicles get into in the interests of profit. This industry cannot expect to turn around its fortunes unless it turns around the behaviour of some of its operators. Although tougher action will undoubtedly make life much harder as well as dearer for all of us, it is the only way that we will stamp out the rogues. That will leave more business for legitimate operators and at higher prices. Congratulations, Mr Waterworth!
Andy Turner Manchester
Green greens?
We live in a period of time when the formerly passive green movement have seemingly removed their Arran sweaters and donned combat jackets.
I sympathise with people who love the countryside and prefer it to "yet another by-pass". I count myself among them. But they do their causes no good at all when they disregard the necessity of transport and roads and act as if they have just crawled off of the pages of a Tolkien book armed with military style tactics.
Wise up!
Norman Willis Banbury