Swift keeps the spray
1st August 1996
Page 20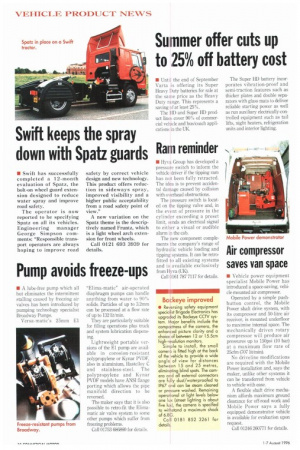 Page 20, 1st August 1996 —
Swift keeps the spray
Close
down with Spatz guards Ram reminder
• Hyva Group has developed a
II Swift has successfully completed a 12-month evaluation of Spatz, the bolt-on wheel guard extension designed to reduce water spray and improve road safety.
The operator is now reported to be specifying Spatz on all its vehicles. Engineering manager George Simpson comments: "Responsible transport operators are always hoping to improve road safety by correct vehicle design and new technology. This product offers reduction in sideways spray, improved visibility and a higher public acceptability from a road safety point of view."
A new variation on the Spatz theme is the descriptively named Frtmtz, which is a light wheel arch extension for front wheels.
Call 0121 693 3939 for details. pressure switch to inform the vehicle driver if the tipping ram has not been fully retracted. The idea is to prevent accidental damage caused by collision with overhead obstructions.
The pressure switch is located on the tipping valve and, in the event of pressure in the cylinder exceeding a preset limit, sends an electrical signal to either a visual or audible alarm in the cab.
The new component complements the company's range of hydraulic vehicle loading and tipping systems. It can be retrofitted to all existing systems and is available exclusively from Hyva (UK).
Call 0161 787 7117 for details.