Pump avoids freeze-ups
1st August 1996
Page 20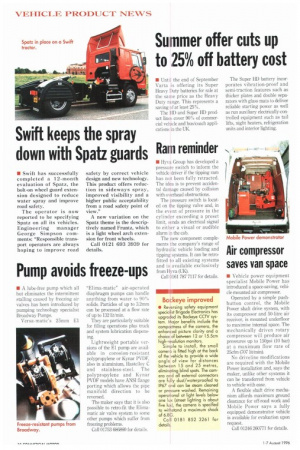 Page 20, 1st August 1996 —
Pump avoids freeze-ups
Close
• A lube-free pump which all but eliminates the intermittent stalling caused by freezing air valves has been introduced by pumping technology specialist Broadway Pumps.
Versa-matic's 25mm El "Elima-matic" air-operated diaphragm pumps can handle anything from water to 90% solids. Particles of up to 3.2mm can be processed at a flow rate of up to 132 lit/min.
They are particularly suitable for filling operations plus truck and system lubrication dispensing.
Lightweight portable versions of the El pump are available in corosion-resistant polypropylene or Kynar PVDF, also in aluminium, Ilastelloy C and stainless-steel. The polypropylene and Kynar PVDF models have ANSI flange porting which allows the pipe manifold direction to be reversed.
The maker says that it is also possible to retro-fit the Elimamatic air valve system to some other pumps which suffer from freezing problems.
Call 01753 686860 for details.