Maintenance system was not up to date
1st August 1996
Page 19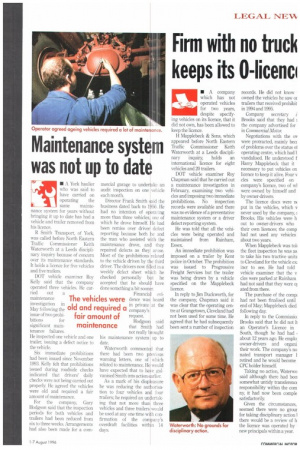 Page 19, 1st August 1996 —
Maintenance system was not up to date
Close
• A York haulier who was said to have carried on operating the same mainte nance system for years without bringing it up to date has had a vehicle and trailer removed from his licence.
R Smith Transport, of York, was called before North Eastern Traffic Commissioner Keith Waterworth at a Leeds disciplinary inquiry bemuse of concern over its maintenance standards. It holds a licence for five vehicles and five trailers.
DOT vehicle examiner Roy Kelly said that the company operated three vehicles. He car ried out a maintenance investigation in May following the issue of two prohi bitions for significant maintenance failures. He inspected one vehicle and one trailer, issuing a defect notice to the vehicle.
Six immediate prohibitions had been issued since November 1993. Kelly felt that prohibitions issued during roadside checks indicated that drivers' daily checks were not being carried out properly. He agreed the vehicles were old and required a fair amount of maintenance.
For the company, Gary Hodgson said that the inspection periods for both vehicles and trailers had been reduced from six to three weeks. Arrangements had also been made for a corn. tnercial garage to undereda an audit inspection on one vehicle each month.
Director Frank Smith said the business dated back to 1956. He had no intention of opera! Mg more than three vehicles. one of which he drove himself. He had been remiss over driver defect reporting because both he and the man who assisted with the maintenance drove, and they repaired defects as they ar.)se. Most of the prohibitions related to the vehicle driven by the third driver. The drivers now filled in a weekly defect sheet which he checked personally but he accepted that he should have done something a bit sooner.
Financial evidence was heard in private at the company's request.
Hodgson said that Smith had not really brought his maintenance system up to date.
Waterworth commented that there had been two previous warning letters, one of which related to maintenance. He would have expected that to have galvanised Smith into action earlier.
As a mark of his displeasure he was reducing the authorisation to four vehicles and four trailers; he required an undertaking that not more than three vehicles and three trailers wold be used at any one time with cmfirmation of the company's overdraft facilities within 14 days.