Arm with no truck
1st August 1996
Page 19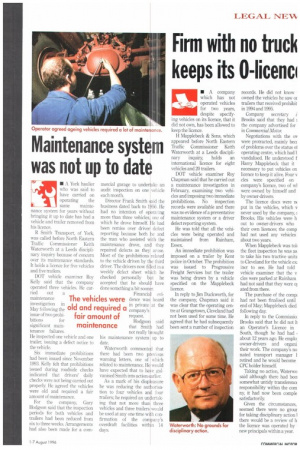 Page 19, 1st August 1996 —
Arm with no truck
Close
keeps its 0-licenci
• A company which has not operated vehicles for two years, despite specifying vehicles on its licence, that it did not own, has been allowed to keep the licence.
H Mapplebeck & Sons, which appeared before North Eastern Traffic Commissioner Keith Waterworth at a Leeds disciplinary inquiry, holds an international licence for eight vehicles and 20 trailers.
DOT vehicle examiner Roy Chapman said that he carried out a maintenance investigation in February, examining two vehicles and imposing two immediate prohibitions. No inspection records were available and there was no evidence of a preventative maintenance system or a driver defect reporting system.
He was told that all the vehicles were being operated and maintained from Rainham, Essex.
An immediate prohibition was imposed on a trailer by Kent police in October. The prohibition was issued to Progressive Freight Services but the trailer was being drawn by a vehicle specified on the Mapplebeck licence.
In reply to Jim Duckworth, for the company, Chapman said it was clear that the operating centre at Grangetown, Cleveland had not been used for some time. He agreed that he had subsequently been sent a number of inspection records. He did not know owned the vehicles he saw ox trailers that received prohibit in 1994 and 1995.
Company secretary I Brooks said that they had t the company advertised for in Commercial Motor.
Negotiations with the ov were protracted, mainly beci of problems over the status oi operating centre, which had t vandalised. He understood f Harry Mapplebeck that it necessary to put vehicles on licence to keep it alive. Four v des were specified on company's licence, two of wl were owned by himself and by owner-drivers.
The licence discs were nt put in the vehicles, which v never used by the company, Brooks. His vehicles were h out to owner-drivers who their own licences; the comp had not used any vehicles about two years.
When Mapplebeck was toll the fleet inspection he was as to take his two tractive units to Cleveland for the vehicle ex; iner to see. He had told vehicle examiner that the v des were parked at Rainham had not said that they were (A ated from there.
The purchase of the comp; had not been finalised until end of May; Mapplebeck died following day.
In reply to the Commissio: Brooks said that he did not h an Operator's Licence in South, though he had had about 12 years ago. He emplo: owner-drivers and organi their work. The company's no nated transport manager retired and he would become CPC holder himself.
Taking no action, Waterwo said although there had beei somewhat untidy transferenct responsibility within the corn ny, it had now been comple satisfactorily.
Given the circumstances, seemed there were no grow for taking disciplinary action] there would be a review of h the licence was operated by new principals within a year.