MAN exhausted by show
1st August 1996
Page 14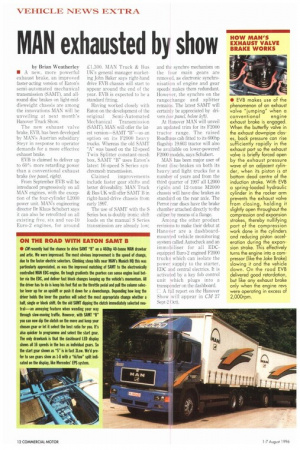 Page 14, 1st August 1996 —
MAN exhausted by show
Close
by Brian Weatherley • A new, more powerful exhaust brake, an improved faster-acting version of Eaton's semi-automated mechanical transmission (SAMT), and allround disc brakes on light-middleweight chassis are among the innovations MAN will be unveiling at next month's Hanover Truck Show.
The new exhaust valve brake, EVB, has been developed by MAN's Austrian subsidiary Steyr in response to operator demands for a more effective exhaust brake.
EVB is claimed to deliver up to 60".0 more retarding power than a conventional exhaust brake (see panel, right).
From September EVB will be introduced progressively on all MAN engines, with the exception of the four-cylinder L2000 power unit. MAN's engineering director Dr Klaus Schubert says it can also be retrofitted on all existing five, six and vee-10 Euro-2 engines, for around £1,300. MAN Truck & Bus UK's general manager marketing John Baker says right-hand drive EVE chassis will start to appear around the end of the year. EVB is expected to be a standard fitting.
Having worked closely with Eaton on the development of the original Semi-Automated Mechanical Transmission (SAMT), MAN will offer the latest version—SAMT "B"—as an option on its F2000 heavy trucks. Whereas the old SAMT "A" was based on the 12-speed Twin Splitter constant-mesh box, SAMT "B" uses Eaton's latest 16-speed S Series synchromesh transmission.
Claimed improvements include faster gear shifts and better driveability. MAN Truck & Bus UK will offer skyrr B in right-hand-drive chassis from early 1997.
The use of SAMT with the S Series box is doubly ironic: shift loads on the manual S Series transmission are already low;
and tilr synchro mechanism on the four main gears are removed, as electronic synchronisation of engine and gear speeds makes them redundant. However, the synchro on the rangechange and splitter remains. The latest SAMT will certainly be appreciated by drivers (see panel, below left).
At Hanover MAN will unveil an updated trim for its F2000 tractor range. The raised Roadhaus cab fitted to its 600hp flagship 19.603 tractor will also be available on lower-powered F2000 models, says Schubert.
MAN has been major user of front disc-brakes on both its heavy and light trucks for a number of years and from the third quarter of 1997 all L2000 rigids and 12-tonne M2000 chassis will have disc brakes as standard on the rear axle. The Perrot rear discs have the brake chamber attached directly to the caliper by means of a flange.
Among the other product revisions to make their debut at Hanover are a dashboardmounted vehicle monitoring system called Autocheck and an immobiliser for all EDCequipped Euro-2 engined F2000 trucks which can isolate the power supply to the starter. EDC and central electrics. It is activated by a key fob control unit which plugs into a transponder on the dashboard. IT A full report on the Hanover Show will appear in CM 27 Sept-2 Oct).