'Fines swap for lessons' tried in two police areas
1st August 1996
Page 13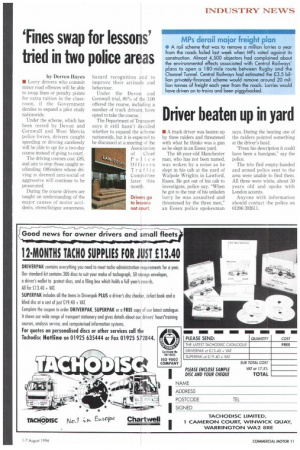 Page 13, 1st August 1996 —
'Fines swap for lessons' tried in two police areas
Close
by Derren liayes
• Lorry drivers who commit minor road offences will be able to swap fines or penalty points for extra tuition in the classroom, if the Government decides to expand a pilot study nationwide.
Under the scheme, which has been tested by Devon and Cornwall and West Mercia police forces, drivers caught speeding or driving carelessly will be able to opt for a two-day course instead of going to court.
The driving courses cost £85, and aim to stop those caught reoffending. Offenders whose driving is deemed anti-social or aggressive will continue to be prosecuted.
During the course drivers are taught an understanding of the major causes of motor accidents, stress/fatigue awareness,
hazard recognition and to improve their attitude and behaviour.
Under the Devon and Cornwall trial, 80% of the 3.00 offered the course, including a number of truck drivers, have opted to take the course.
The Department of Transport says it still hasn't decided whether to expand the scheme nationwide, but it is expected to be discussed at a meeting of the Association of Chief Police Officers Traffic Committee later this month.