0-licences don't impress French
1st August 1996
Page 12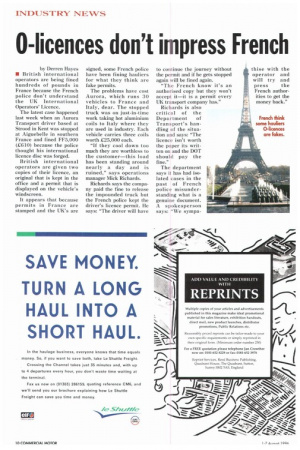 Page 12, 1st August 1996 —
0-licences don't impress French
Close
by Derren Hayes II British international operators are being fined hundreds of pounds in France because the French police don't understand the UK International Operators' Licence.
The latest case happened last week when an Aurora Transport driver based at Strood in Kent was stopped at Aiguebelle in southern France and fined FF5,000 (L610) because the police thought his international licence disc was forged.
British international operators are given two copies of their licence, an original that is kept in the office and a permit that is displayed on the vehicle's windscreen.
It appears that because permits in France are stamped and the UK's are signed, some French police have been fining hauliers for what they think are fake permits.
The problems have cost Aurora, which runs 30 vehicles to France and Italy, dear. The stopped truck was on just-in-time work taking hot aluminium coils to Italy where they are used in industry. Each vehicle carries three coils worth £25,000 each.
"If they cool down too much they are worthless to the customer—this load has been standing around nearly a day and is ruined," says operations manager Mick Richards.
Richards says the company paid the fine to release the impounded truck but the French police kept the driver's licence permit. He says: "The driver will have to continue the journey without the permit and if he gets stopped again will be fined again.
"The French know it's an authorised copy but they won't accept it—it is a permit every UK transport company has."
Richards is also critical of the Department of Transport's handling of the situation and says: "The licence isn't worth the paper its written on and the DOT should pay the fine."
The department says it has had isolated cases in the past of French police misunderstanding what is a genuine document. A spokesperson says: We sympa thise with the operator and will try and press the French authorities to get the money back."