THE GROWTH OF ROAD TRAFFIC.
1st August 1922
Page 8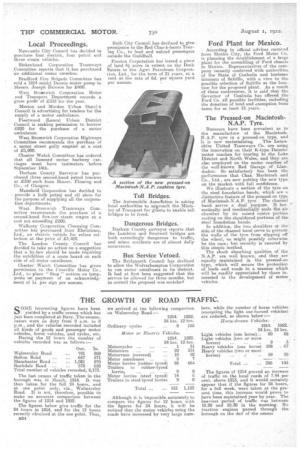 Page 8, 1st August 1922 —
THE GROWTH OF ROAD TRAFFIC.
Close
SDME interesting figures have been yielded by a traffic census which has just been comileted at Bury. The enumerators were on duty from 8 a.m. to 8 p.m., and the vehicles recorded included all kinds of goods and passenger motor vehicles, horse vehicles, and cycles, etc.
During the 12 hours the number of vehicles recorded was as follows ;— Out. In.
Walinersley Road ,.. 791 869 Bolton Road ... ... 657 571 Manchester Road ... ... 1,081 979 Rochdale Road ... ... 579 628 Total number of vehicles recorded, 6,173.
The last census of traffic taken in the borough was in March, 1914. It was then taken for the full 24 hours, and at one point only, viz., Walmersley Road. It is not, therefore, possible to make an accurate comparison between, the figures of 1914 and 1922.
The figures below give traffic for the 24 hours in 1914, and for the 12 hours recently obtained at the one point. Thus,
J324
we arrived at tee following comparison on Walmersley Road:— 1914. 1922.
24 hrs. 12 hrs.
Although it is impossible accurately to compare the figures for 12 hours with the figures for 24 hours, it will be noticed that. the motor vehicles using the roads have increased by very large nein bers, while the number of horse vehicles (excepting the light one-horsed vehicles) .are reduced, as shown below :— The figures of 1914 proved an increase of traffic on the local roads of 7.44 per cent. above 1913, and it would certainly appear that if the figures for 24 hours, for a full week, were taken at the present time, this increase would prove to have been maintained year by year. The heaviest period of traffic was between 10.20 and 10.30 in the morning. No traction engines passed through the borough on the day of the census