• PARKING PLANS FOR VISITING COACHES.
1st August 1922
Page 25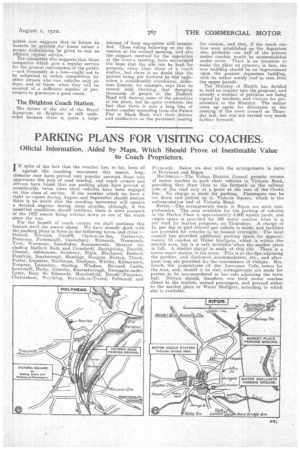 Page 25, 1st August 1922 —
• PARKING PLANS FOR VISITING COACHES.
Close
Official Information, Aided by Maps, Which Should Prove of Inestimable Value to Coach Proprietors.
N spite of the fact that the weather has, so far, been all
against -Hie coaching movement, this season, longdistance runs have proved very popular amongst those who appreciate the joys of read touring, and coach owners and drivers have found that our parking plans have proved of considerable value vlien their vehicles have been engaged on this class of service. If the weather which we have a right to expect during August and September should mature there is no doubt that the coaching movement will receive a decided impetus during these months, although, if the unsettled conditions should continue, there is some prospect of the 1922 season being written, down as one of the worst since the • \var.
For the benefit of coach owners we shall continue this feature until the season closes. We have already dealt with the parking plans in force in the following towns and cities :— Oxford, Norwich, Cardiff, Clacton-on-Sea, Carnarvou, Penzance, Portsmouth, Canterbury, Exmouth, Weymouth, York, Worcester, Llandudno, Bournemouth, Matlock (including Matlock Bath and Cromford), Basingstoke, Penrith, Chester, Ashlaourne, Salisbury, Elgin, Blackpool, Retford, Dumfries, Scarborough, Hastings, Margate, Buxton, Thirst:, Forfar, Leicester, Maidstone, New-quay, Whitby, Kilmarnock, Torquay, Lancaster, Stirling, Windsor, Barnard Castle, Lowestoft, Derby, Grimsby, Knaresborough, Newcastle-underLyme, Bury St. Edmunds, Ma,celesfield, Dover, Paigntom Cheltenham, Worthing. Berwick-on-Tweed, Falmouth and
Plymouth. Below we deal with the arrangements in force in Holyhead and Ripon.
HOLYTTE.k.D.—The -Urban District Council permits owners of motor coaches to park their vehicles in Victoria Road, providing they draw close to the footpath on the railway side of the road only at a point at the rear of the Crown Inn. No charge is made for parking. Passengers can be 'set down and picked up in Victoria Square, which is the railway-station end of Victoria Road. RIPON.—The arrangements made in Ripon are most COM. prehensive. The area available for the parking of vehicles in the Market Place is approximately 3,000 square yards, and ample space is provided for 100 motor coaches when it is not used for market purposes, on Thursdays. A •charge of is. per day or part thereof per vehicle is made, and facilities are provided for vehicles to be housed overnight. The local council has provided additional parking space for approximately 15 coaches at Water Skellgate, which is within the market area-, but it is only available'when the market place is full. A similar, charge is made at this site. There is a motor coach station in the town. This is at the Spa adjoining the gardens, and cloakroom accommodation, etc., and afternoon teas are provided for the convenience of visitors. Mrs. Leach, the proprietress of the Lawrence Cafe; caters for the teas, and, should it be wet, arrangements are made for parties to he accommodated at her cafe adjoining the town hall. Drivers should, therefore, run their motor coaches direct to the station, unload passengers, and proceed either to the market. .place or Water Skellgate, according to which site is available.