Deal supported
1st April 1993
Page 8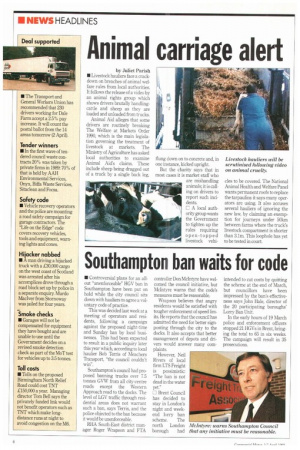 Page 8, 1st April 1993 —
Deal supported
Close
• The Transport and General Workers Union has recommended that 230 drivers working for Dale Farm accept a 2.5% pay increase. It will count the postal ballot from the 14 areas tomorrow (2 April).
Tender winners
• In the first wave of tendered council waste contracts 20% was taken by private firms in 1989: 70% of that is held by AAH Environmental Services, Onyx, Biffa Waste Services, Sitaclean and Focsa.
Safety code
• Vehicle recovery operators and the police are mounting a road safety campaign for garage contractors. The "Life on the Edge" code covers recovery vehicles, tools and equipment, warning lights and cones.
Hijacker nabbed
• Pk man driving a hijacked truck with a .£30,000 cargo on the west coast of Scotland was arrested after his accomplices drove through a road block set up by police in a separate enquiry. Murdo MacIver from Stornoway was jailed for four years.
—Smoke checks
• Garages will not be compensated for equipment they have bought and are unable to use until the Government decides on a revised smoke detection check as part of the MoT test for vehicles up to 3.5 tonnes.
Toll costs • Tolls on the proposed Birmingham North Relief Road could cost TNT £150,000 a year. Managing director Tom Bell says the privately funded link would not benefit operators such as TNT which make longdistance runs at night to avoid congestion on the M6.