Rental upturn
1st April 1993
Page 6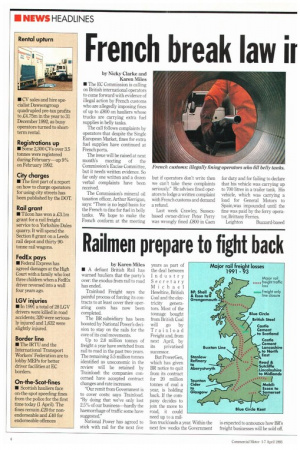 Page 6, 1st April 1993 —
Rental upturn
Close
• CV sales and hire specialist Dawsongroup quadrupled pre-tax profits to £4.75m in the year to 31 December 1992, as busy operators turned to shortterm rental.
Registrations up
• Some 2,300 CVs over 3.5 tonnes were registered during February—up 9% on February 1992.
City charges
• The first part of a report on how to charge operators for using city streets has been published by the DOT.
Rail grant
• Tilcon has won a £3.1m grant for a rail freight service to a Yorkshire Dales quarry. It will spend the Section 8 grant on a Leeds rail depot and thirty 90. tonne rail wagons.
FedFx pays
• Federal Express has agreed damages at the High Court with a family who lost three children when a FedEx driver reversed into a wall four years ago.
LGV injuries
• In 1991 a total of 28 LGV drivers were killed in road accidents; 320 were seriously injured and 1,632 were slightly injured.
Border line
• The IRTU and the International Transport Workers' Federation are to lobby MEPs for better driver facilities at EC borders.
On-the-Scot-fines
• Scottish hauliers face on-the-spot speeding fines from the police for the first time today (1 April). The fines remain £20 for nonendorseable and £40 for endorseable offences