PRODUCTS
1st April 1993
Page 21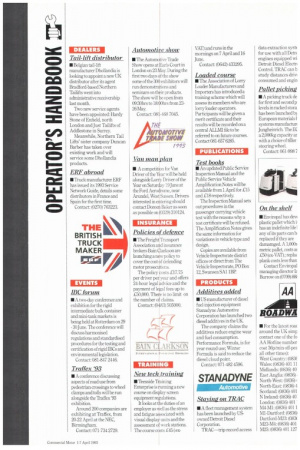 Page 21, 1st April 1993 —
PRODUCTS
Close
Additives added
• US manufacturer of diesel fuel-injection equipment Stanadyne Automotive Corporation has launched two diesel additives in the UK.
The company claims the additives reduce engine wear and fuel consumption. Performance Formula, is for year-round use; Winter Formula is said to reduce the diesel cloud point.
Contact: 071-482 4596.
Staying on TRAC
• A fleet management system has been launched by USowned Detroit Diesel Corporation.
TRAC—trip record access data extraction systE for use with all Detn engines equipped wi Detroit Diesel Electri Control. TRAC can h study distances drivi consumed and engin
Pallet picking
• A picking truck de for first and second p levels in racked stora has been launched by European materialst systems manufactun Jungheinrich. The EC a 2,000kg capacity ar with a choice of tiller steering wheel.
Contact: 061-998 '7
On the shelf
• Enviropal has dela plastic pallet which has an indefinite life I any of its parts can b replaced if they are damainged. A 1,000) metric pallet, costs at £50 (ex-VAT).; replac plank costs less than Contact Enviropal managing director k Burrow on (0709) 88i
• For the latest roac around the UK simp contact one of the fo AA Hotline number cost 36p/min off-pea all other times): West Country: (083E Wales: (0836) 401 11 Midlands: (0836) 40 East Anglia: (0836) North-West: (0836) z North-East: (0836) 4 Scotland: (0836) 401 N Ireland: (0836) 40. London: (0836) 401 • M4-M1: (0836) 401 1 Ml-Dartford: (0836) Dartford-M23: (0831 M23-M4: (08,36)401 M25: (0836) 401 127