Second hours warning for B&J
1st April 1993
Page 14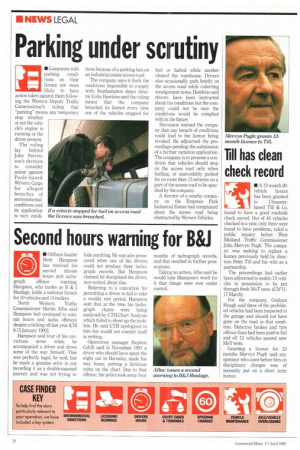 Page 14, 1st April 1993 —
Second hours warning for B&J
Close
• Oldham haulier Brett Hampson has received his second drivers hours and tacho graph offence warning. Hampson, who trades as B & J Haulage, holds a national licence for 10 vehicles and 14 trailers.
North Western Traffic Commissioner Martin Albu said Hampson had continued to commit hours and tacho offences despite a ticking off last year (CM 9-15 January 1992).
liampson said four of his convictions arose when he accompanied a driver and drove some of the way himself. This was perfectly legal, he said, but he made a genuine error in not recording it as a double-manned journey and was not trying to hide anything. He was also prosecuted when one of his drivers could not produce three tachograph records But Hampson claimed he disciplined the driver, now retired, about this.
Referring to a conviction for permitting a driver to fail to take a weekly rest period. Hampson said that at the time his tachograph charts were being analysed by CTH Chart Analysis which failed to show up the problem. He said CTH apologised to him but would not commit itself in writing.
Operations manager Stephen Cahill said in November 1991 a driver who should have spent the night out in Barnsley, made his way home, putting a fictitious name on the chart. Due to that offence, the police took away four months of tachograph records, and that resulted in further prosecutions.
Taking no action, Albu said he would rake Hampson's word for it that things were now under control.