Parking under scrutiny
1st April 1993
Page 14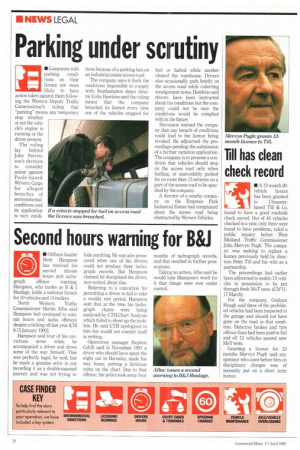 Page 14, 1st April 1993 —
Parking under scrutiny
Close
• Companies with
parking conditions on their licence are more likely to have action taken against them following the Western Deputy Traffic Commissioner's ruling that "parking" means any temporary stop whether or not the vehicle's engine is running or the driver present.
The ruling lay behind John Stevenson's decision to consider action against Poole-based Wyvern Cargo for alleged breaches of environmental conditions and its application to vrc-v condi tions because of a parking ban on an industrial estate access road.
The company says it finds the conditions impossible to comply with. Southampton depot director Colin Hawkins said the ruling meant that the company breached its licence every time one of the vehicles stopped for fuel or halted while another cleared the warehouse. Drivers also occasionally park briefly on the access road while collecting consignment notes. Hawkins said drivers have been instructed about the conditions but the company could not be sure the conditions would be complied with in the future.
Stevenson warned the company that any breach of conditions could lead to the licence being revoked. He adjourned the proceedings pending the submission of a further variation application. The company is to propose a condition that vehicles should stop on the access road only when fuelling, or unavoidably parked for no more than 15 minutes on a part of the access road to be specified by the company.
A director of a nearby company on the Empress Park Industrial Estate had complained about the access road being obstructed by Wyvern Vehicles