Bricks up for bidding s p eaen b raeur t ess by Karen Miles • A
1st April 1993
Page 12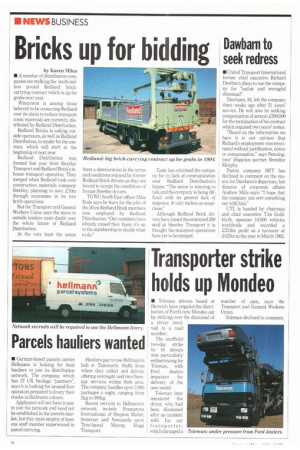 Page 12, 1st April 1993 —
Bricks up for bidding s p eaen b raeur t ess by Karen Miles • A
Close
number of distribution companies are stalking the multi-million pound Redland brickcarrying contract which is up for grabs next year.
Wincanton is among those believed to be contacting Redland over its plans to reduce transport costs: materials are currently distributed by Redland Distribution.
Redland Bricks is asking outside operators, as well as Redland Distribution, to tender for the contract, which will start at the beginning of next year.
Redland Distribution was formed last year from Steetley Transport and Redland Brick's inhouse transport operation. They merged when Redland took over construction materials company Steetley, planning to save £10m through economies in its two brick operations.
But the Transport and General Workers Union says the move to outside tenders casts doubt over the whole future of Redland Distribution.
At the very least the union fears a deterioration in the terms and conditions enjoyed by former Redland Brick drivers as they are forced to accept the conditions of former Steetley drivers.
TGWU South East officer Mike Eade says he fears for the jobs of the 30 ex-Redland Brick members now employed by Redland Distribution: "Our members have already raised theii fears; it's up to the membership to decide what to do." Eade has criticised the company for its lack of communication over Redland Distribution's future: "The union is wanting to talk and the company is being difficult with its general lack of response. It only makes us suspicious."
Although Redland Brick drivers have joined the estimated 200 staff at Steetley Transport it is thought the transport operations have yet to be merged.