Freightliner's birthday launc
1st April 1993
Page 11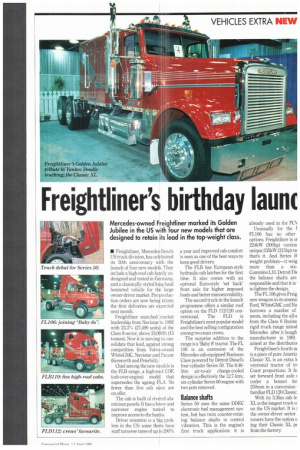 Page 11, 1st April 1993 —
Freightliner's birthday launc
Close
Keywords :
Trucking Industry In The United States
,
Freightliner
,
Daimler Ag
,
Paccar
,
Freightliner Trucks
,
Peterbilt
,
Truck
,
Cab Over
,
White Motor Company
,
Class 8
,
Detroit Diesel
,
Mercedes-benz
Mercedes-owned Freightliner marked its Golden Jubilee in the US with four new models that are designed to retain its lead in the top-weight class.
• Freightliner, Mercedes-BenzS US truck division, has celebrated its 50th anniversary with the launch of four new models. They include a high-roof cab family codesigned and tested in Germany, and a classically styled long-haul bonneted vehicle for the large owner-driver market. Pre-production orders are now being taken; the first deliveries are expected next month.
Freightliner snatched market leadership from Navistar in 1992 with 23.3% (27,490 units) of the Class 8 sector, above 33,000lb (15 tonnes). Now it is moving to consolidate that lead, against strong competition from Volvo-owned WhiteGMC, Navistar and Paccar (Kenworth and Peterbilt).
Chief among the new models is the FLB range, a high-roof COE (cab-over-engine) model that supersedes the ageing FLA. No fewer than five cab sizes are on offer.
The cab is built of riveted aluminium panels. It has a lower and narrower engine tunnel to improve access to the bunks.
Driver retention is a big problem in the US: some fleets have staff turnover rates of up to 200% a year and improved cab comfort is seen as one of the best ways to keep good drivers.
The FLB has European-style hydraulic cab latches for the first time. It also comes with an optional Euro-style 'set back' front axle for higher imposed loads and better manoeuvrability.
The second truck in the launch programme offers a similar roof option on the FLD 112/120 conventional. The FLD is Freightliner's most popular model and the best selling configuration among two-man crews.
The surprise addition to the range is a 'Baby 8' tractor. The FL 106 is an extension of the Mercedes cab-equipped Business Class powered by Detroit Diesel's four-cylinder Series 50. The 8.46litre air-to-air charge-cooled design is effectively the 12.7-litre, six-cylinder Series 60 engine with two pots removed.
Balance shafts
Series 50 uses the same DDEC electronic fuel management system, but has twin counter-rotating balance shafts to control vibration. This is the engine's first truck application: it is
already used in the PCN,
Unusually for the I FL106 has no other options. Freightliner is of 224kW (300hp) version unique 235kW (315hp) rat that's it. And Series 5( weight problem—it weig more than a sixCummins Lin Detroit Dit the balance shafts are responsible and that it is to lighten the design.
The FL 106 gives Freig new weapon in its arsenal Ford, WhiteGMC and Na borrows a number of nents, including the all-s from the Class 6 Busine rigid truck range introd Mercedes after it bough manufacturer in 1981 aimed at the distributia Freightliner's fourth n( is a piece of pure Ameria Classic XL is an extra It ventional tractor of tia Coast proportions. It fe set forward front axle under a bonnet ler 250mm in a conversion : familiar FLD 120 Classic.
With its 325m cab le XL is the longest truck o: on the US market. It is the owner-driver sector tomers have the option o ing their Classic XL pt from the factory.