TWO Bedford articulated lorries have 1 just cothpleted a round
1st April 1949
Page 8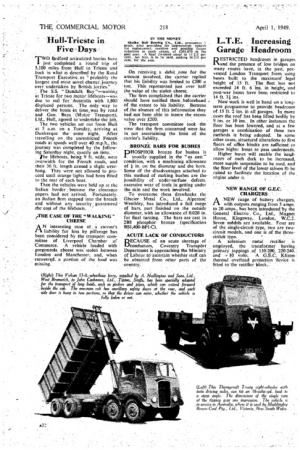 Page 8, 1st April 1949 —
TWO Bedford articulated lorries have 1 just cothpleted a round
Close
trip of 3,100 miles. from Hull to Trieste and back in what is described by the Road Transport ExecutiVe as "probably the longest and most novel charter journey ever undertaken by British lorries."
The S.S. " Dundalk Bay."----waiting at Trieste for two motor lifeboats—was due to sail •for-AuStralia with 1,800' displaced persons. . The Only way to deliver the boats in time. was by road and Geo. • Bays . (Motor Transport), Ltd., Hull, agreed to-undertake the job.
The two 'vehicles setout from Hull at 5 a.m. on a Tuesday, arriving at Dunkerque the same night.. After' travelling on . the unrestricted French' roads at speeds wellover 40 m.p.h., the. journey was cempleted by the following Saturday night, exactly on time. • . /he lifeboats, -being 9 ft. Wide, were overwidth for the French roads, and their 36 ft. length caused a slight overhang. They were not allowed to proceed until orange' lights had been fitted
to the rear of each boat. .
Then the vehicles were held opal the Italian border :because the clearance papers had not arrived. Fortunately, an Italian .firm stepped -intothe breach and without any security guaranteed the -cost of the lifeboats. 1 /THE CASE OF THE 'WALKING "
CHEESE
AN interesting case of. a .carrier's liability for loss by pilferage has been considered by the transport cornmittee of Liverpool Chamber oc Commerce. A vehicle loaded with gorgonzola cheese was stolen between London 'and Manehester, and, when recovered, a portion. of _the load was IN "filE. MONEY'.
Sketlo Ball Rearing Co.' Ltd., announces --. proth, atier providing for depreciation, rescrCc for replacement. taxation and possible future reduction in stock values. of 5205,570 in the MI year. A final ...iiyidend equal to l t 213 per tent.. tax free, is to be oaid. titakina 162/3 per cent, for the scat.
,BRONZE BARS FOR RUSHES
PHOSPHOR bronze for bushes is I usually supplied in the "as cast" condition, with a machining allowance of 11in. on the diameter and the bore. Some cif the disadvantages attached to this method of making bushes are thejeossibility of under-surfaie defects, excessive wear of tools in getting under the skin and the work involved.
To overcome these drawbacks the Glacier. Metal Co., Ltd., Alperton: Wembley, has introduced a full range of bars, part finished on the outside diameter, with an allowance of 0.020 in. for final turning. The bars are cast in 2B8 phosphor bronze (specification • 1S1,400-BP1-C).