C.I.E. Financial State Serious
1st April 1949
Page 7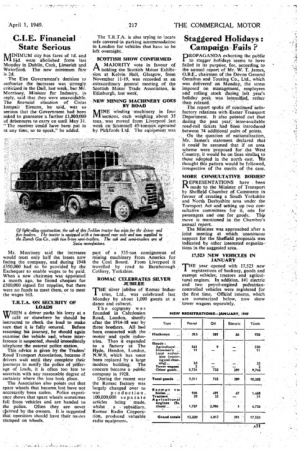 Page 7, 1st April 1949 —
C.I.E. Financial State Serious
Close
Keywords :
A/LENIN/UM city bus fares of Id, and ilL lid. were abolished from last Monday in Dublin, Cork, Limerick and Waterford The new minimum fare is 2d.
The Eire Government's decision to authorize the increases was strongly criticized in the Dail, last week, but Mr. Morrissey, Minister for Industry, in reply, said that they were unavoidable. The financial situation of Coras Iompair Eireann, he said, was so serious that the Government had been asked to guarantee a further £1,800,000 of debentures to carry on until May 31. "The receiver could have been put in at any time, so to speak," he added.
Mr. Morrissey said the increases. would meet only half the lasses now facing the cortpany, and during 1948 £350,000 had to be provided by the Exchequer to enable wages.to be paid. When a new chairman was appointed a month ago, he found checitieS for £500,000 signed for supplies,but there were no funds to meet them; or to meet the wages bill.
T.R.T.A. ON SECURITY OF LOADS
WHEN a driver parks his lorry at. a W café or elsewhere he shouldbe instructed to check, the load to make sure. that it is fully secured. Before resuming his Journey, he should again examine' the vehicle awl, where interference is. suspected, should . immediate y telephone the nearest police station.
This advice is given by the Traders' Road Transport Association,..because-if drivers wait 'until' they complete their journeys to notify the police of pilferage of loads, it is often too 'late 'to ascertain with any reasonable degree of certainty where the loss took place.
The Association also points out that spare wheels that become lost have not necessarily been stolen. Police experience shows that spare wheels sometimes fall from vehicles and are handed to
police. Often they are never claimed by the owners. It is suggested that operators should have their names stamped on wheels. The T.R.T.A. is also trying to tocate safe covered-in parking accommodation in London for vehicles that have to be Left overnight.
SCOTTISH SHOW CONFIRMED
AMAJORITY vote in favour of• nolding the Scottish Motor Exhibition at Kelvin Hall, Glasgow, from
• November 11-19, was recorded at an extraordinary general meeting of the Scottish Motor Trade Association, in Edinburgh, last week.
NEW MINING MACHINERY GOES • BY ROAD MINE winding machinery in four, sections, each weighing about 35 tons, was moved from Liverpool last week on Scarrimell 45 tanners operated by Pickfords Ltd. The equipment was part of a 535-ton consignment of mining machinery from America for the Coal Board. From Liverpool it travelled by road to Barnberough Colliery, Yorkshire.
ROMAC CELEBRATES SILVER JUBILEE
THE silver jubilee of Romac Indus.' tries, Ltd., was celebrated last Monday by about 1,000 guests at a dance and cabaret.
The ccenpany was founded in Caledonian Road, London, shortly after the 1914-18 was by three brothers. All had been connected with the motor and cycle industries. Then it expanded to a factory at The Hyde, Hendon, London, N.W.9, which has since been replaced by a large modern building. The concern became a public company in 1928.
During the recent war the Romac factory was largely changed over to war production, 100,000,000 separate articles being made, whilst a subsidiary. Romac Radio Corporation, produced valuable radio equipmem.