Men in the News
1st April 1949
Page 6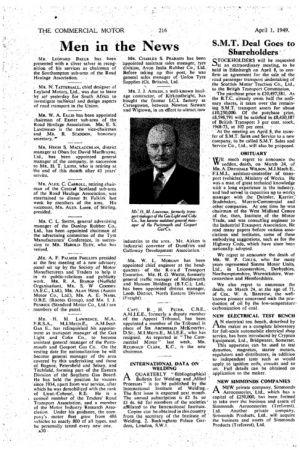 Page 6, 1st April 1949 —
Men in the News
Close
MR. LEONARD BAKER has been presented with a silver salver in recognition of his services as chairman of the Southampton sub-area of the Road
Haulage Association. ;
MR. N. TATTERSALL, chief designer of Leyland Motors, Ltd, was due to leave by air yesterday for South Africa to investigate technical and design aspects of road transport in the Union.
MR. W. A. Ellis has been appointed chairman of Exeter sub-area of the Road Haulage Association. MR. E. S.• LANGMEAD is the new vice-chairman and ,MR. R. STADDON, honorary secretary.
MR, HUGH S. MACLADCHLAN, district manager at Oban for David MacBrayne, Ltd., has been appointed general manager of the company, in succession IO MR. H. T. LEITH, who IS retiring at the end of this rhonth after 43 years' service.
'MR. ALEX. C. CARROLL, retiring chairman of the Centre! Scotland sub-area of the Road Haulage' Association, was entertained to dinner t Falkirk last week by members of the area. His successor, MR. ALEX. LAMB, of Stirling. presided.
MR. C. L. SMITH, general advertising manager of the Dunlop Rubber Co., Ltd., has been -appointed chairman of the advertising committee of the Tyre Manufacturers' Conference, in succession to MR. HAROLD ELEY, who has retired.
"Ma. A. F. PALMER PHILLIPS presided at the first meeting of a new advisory, panel set up by the Society of Motor Manufacturers and Traders to help it in its public-relations and publicity work. MR. R. A. BISHOP (Nuffield Organisation), MR. S. W GOODEY (A.E.C.; Ltd.), MR. ALAN HESS (Austin Motor Co., Ltd:), MR. A. E NASH. O.B.E. (Rootes Group), and MR. I. J. PENRICE (Standard Motor Co" Ltd.) are members of the panel.
MR. H. M. LAWRENCE, M.A.. F.R.S.A., GAS E., has relinquished his appointment as transport manager of the Gas Light and Coke Co., to become assistant general manager of the Portsmouth and Gosport Gas Co. On the vesting date for nationalization he will become general manager of the area covered by this undertaking and those of Bognor, Petersfield and Selsey, and Titchfield, forming part of the Eastern Division of the Southern Gas Board. He has held the position he vacates since 1934, apart from war service, after which he was demobilized with the rank
of Lieut.-Colonel, R.E. He• is a council member of the Traders' Road Transport Association, and a member of the Motor Industry Research Association. Under his guidance, the company's motor fleet grew from 486 vehicles to nearly 800 of all types, and he personally tested every new one.
a30
• MR, CHARLES S. PEARSON has been 'appointed assistant sales manager, tyre division, Avon India Rubber Co., Ltd. Before taking up this post, he was general sales manager of Unton Tyre Supplies (Gt. Britain), Ltd.
MR. I, J. AITKEN, a well-known haulage contractor, of Kirkcudbright, has bought the former I.C.I. factory at Carsegowan, between Newton Stewart and Wigtown, in an effort to attract new
industries to the area. . Mr. Aitken is industrial convener of Dumfries and Galloway Development Association. •
MR. W. L. Mottoma has been appointed chief engineer at the headquarters of the Road Transport Executive. MR, H. G. WHITE, formerly general traffic, manager of Holdsworth and Hanson, Holdings (B.T.C.), Ltd.; has been appointed district manager, Leeds District. North Eastern Division (Freight).
CAPT. B. H. PETER, C.B.E., A.M.I.E.E., formerly a deputy member Of the Appeal Tribunal, has been appointed a member of the Tribunal in place of SIR ARCHIBALD MCKINSTRY, D.Sc., M.I.MEcti.E., M.I.E.E., who has resigned. As reported in "The Commercial Motor" last week, MR.
REGINALD CLARK, K.C., is the new
chairman.
INTERNATIONAL DATA ON WELDING
AQUARTERLY "Bibliographical Bulletin for Welding and ...Allied Processes" is to be published by the International Institute of Welding. The first issue is expected next month. The annual subscription is £2 5s. or £1 6s. 6d for members of the societies' affiliated to the International Institute.
Copies can be obtained in this country from the secretary of the Institute of Welding, 2, Buckingham Palace Gardens, London, S.W.1.
Tags
Organisations
:
Southern Gas Board
,
Eastern Division
,
Appeal Tribunal
,
Motor Industry Research Association
,
International Institute of Welding
,
Dumfries and Galloway Development Association
,
Traders' Road Transport Association
,
Society of Motor Manufacturers and Traders
,
Nuffield Organisation
,
Road Haulage Association
,
International Institute
People
:
W. A. Ellis
,
C. L. SMITH
,
Welding
,
R.E. He
,
I. J. PENRICE
,
HAROLD ELEY
,
REGINALD CLARK
,
R. A. BISHOP
,
HUGH S. MACLADCHLAN
,
S. W GOODEY
,
Aitken
,
W. L. Mottoma
,
H. M. LAWRENCE
,
LEONARD BAKER
,
ALAN HESS
,
B. H. PETER
,
A. E NASH
,
N. TATTERSALL
,
CHARLES S. PEARSON
,
R. STADDON
,
C. CARROLL
,
H. T. LEITH
,
ARCHIBALD MCKINSTRY
,
Tribunal
,
F. PALMER PHILLIPS