Extra ' Coed': . fuel Is Oftly. a A N 'absurd._ sop' s ' View of the
1st April 1949
Page 5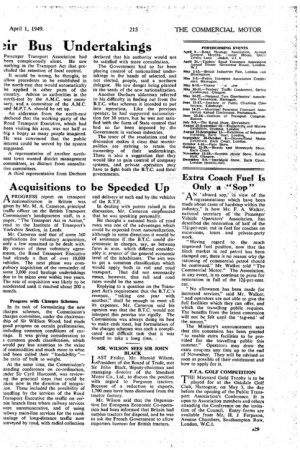 Page 5, 1st April 1949 —
Extra ' Coed': . fuel Is Oftly. a A N 'absurd._ sop' s ' View of the
Close
representations which have been madeabout cases of hardship•withitathe industry," is how Mr, .E A. Walker, national secretary of the Passenger Vehicle. Operators' Association, has described the restoration, of half of the 12/-peneent. cut in fuel for coaches an excursions, tours . and -private-party work.. .
"Having regard :to. • the . much improved fuel position, now that the black market in red petrol has been stamped out, there is no reason why the rationing of commercial petrolshould be continued," Mr:Walker told. "The Commercial Motor." The Association, in any event, is to. continue to press for restoration in full of the 12-i-per-cent. cut.[ "No allowance has: been made for increased services," said: Mr:. Walker, " and operators are not able to give-the full facilities whichthey can offer, and which the travelling public :requiresThe benefits from the latest concession will not be. felt until -the 'tag-end.' of the season:.
The Ministry's announcement says that this concession has been granted "to enable extra facilities to be provided for the travelling public this summer."Operators may draw the extra coucons anytime up to the _end of November. They will be advised as soon as possible of their entitlement and how to apply for,it.
P.T.A. GOLF COMPETITION • 'THE Maynard Gold Trophy is to be I played for at the Oakdale Golf Club, Harrogate,. on May 3, the day before the 'opening of the' Public Transport Association's Conference. It., is open to_ Association. members andothers attending the Conference:on-the invitation of the Council. Entry-forms are available from Mr.. .H. J. Ferguson, Avenue Chambers, Southampton Row, London, W.C.1.