B.T.C. Charges Scheme to be Delayed
1st April 1949
Page 25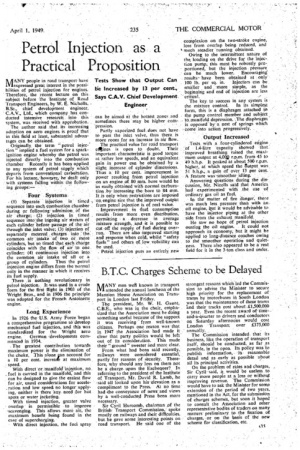 Page 25, 1st April 1949 —
B.T.C. Charges Scheme to be Delayed
Close
Keywords :
NnANY men well known in transport IYj attended the annual luncheon of the Mansion House Association on Transport in London last Friday.
The president,. Mr. W. H. Gaunt, C.B.E., who was in the chair, erriphasized that the Association must be doing something useful because of the support it was receiving from well-known citizens. Perhaps one reason was that in 1947 the Association had made it clear that party politics would be leftout of its consideration. This made their " ground" sweeter and more clear.
From what had been said recently, railways were considered essential, partly for reasons of security. Therefore, why should any loss on them not be a charge. upon the Exchequer? In referring to the president of the Institute of Transport, Mr. David R. Lamb, he said all looked upon his'elevation as a compliment to the Press. At no time had-the conveyance of newsand views by a well-conducted Press been more necessary.
Sir Cyril Hureomb, chairman eif the British Transport Commission, spoke mostly on railways and their difficulties, but he gave some interesting points on road transport. Be said one of the strongest reasons which led the Commission to advise the Minister to secure high priority for the replacement of trams by 'Motorbuses in South London was that the maintenance of these trams and their tracks cost about .£1,500,000 a year. Even the recent award of timeand-a-quarter to drivers and conductors on Saturday afternoons would cost. LondOn Transport over £375,000 annually. • • • The Commission intendedthat its business, like the operation of transport itself, should be conducted, as far as possible, in the open. Its policy was to publish information,inreasonable detail and as early as possible about all its principal activities. On the problem of rates and charges, Sir Cyrilsaid, it would be useless to carry inure people at,a loss or withont improving revenue. The Commission would have to ask the Minister for some extension of the period of two years, mentioned in the 'Act, for the submission of Charges schemes, but soon it hoped to consult the Association: and other representative bodies of traders on many matters' preliminary, to the fixation, of charges, or on the basis of the new scheme feir classification, etc.