Playing With Road Improvements
1st April 1949
Page 2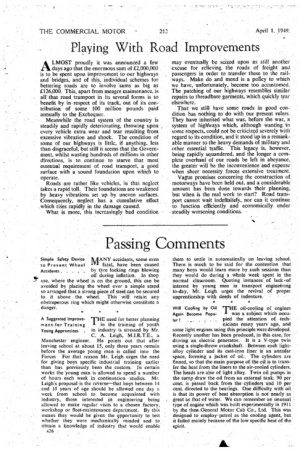 Page 2, 1st April 1949 —
Playing With Road Improvements
Close
ALMOST proudly it was announced a few days ago that the enormous sum of £2,000,000 is to be spent upon improvement to our highways and bridges, arid of this. individual schemes for bettering roads are to involve 'sums as big as £126,000. This, apart from meagre maintenance, is all that road transport in its several forms is to benefit by in respect of its track, out of its contribution of some 100 million pounds paid annually to the Exchequer.
Meanwhile the road system of the country is steadily and rapidly deteriorating, throwing upon every vehicle extra wear and tear resulting from excessive vibration and shock. The condition of some of our highways is little, if anythin2, less than disgraceful, but still it seems that the Government, whilst wasting hundreds of millions in other directions, is to continue to starve that most essential requirement of road transport, a good surface with a sound foundation upon which to operate.
Roads are rather like vehicles, in that neglect takes a rapid toll. Their foundations are weakened by heavy vibrations set up by uneven surfaces. Consequently, neglect has a cumulative effect which riSes rapidly in the damage caused.
What is more, this increasingly bad condition may eventually be seized upon as still another excuse for relieving the roads of freight and passengers in order to transfer these to the railways. Make do and mend is a policy to which we have, unfortunately, become too accustomed. The patching of our highways resembles repairs to threadbare garments, which quickly tear elsewhere.
That we still have some roads in good condition has nothing to do with.Our present rulers. They have inherited what was, before the war, a system of highways which, although Wanting in some respects, could not be criticized severely With regard to its condition, and it stood up in a remarkable manner to the heavy demands of military and other essential traffic. This legacy is, however, being rapidly squandered, and the longer a complete overhaul of our roads be left in abeyance, the greater will be the inconvenience and expense when sheer necessity forces extensive treatment.
Vague promises concerning the construction of_ motorways have been held out, and a considerable amount has been done towards their planning, but when is the real work to start? Road transport cannot wait indefinitely, nor can it 'continue to function efficiently and economically, under steadily worsening conditions.